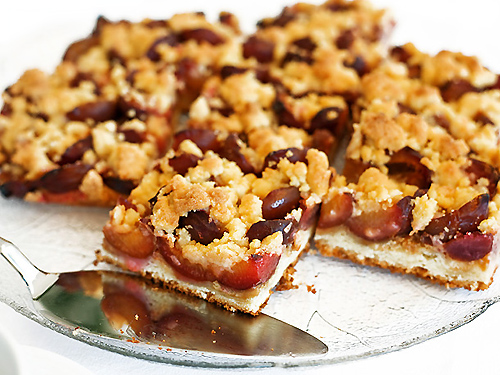 Ingredients:
Pastry:
4 cups flour
3 sticks (~330 g) butter or margarine
1 cup sugar
1 tsp salt
4 egg yolks (save whites)
1 tsp vanilla
1 – 1.3 kg little purple plums (quartered)
1 cup apricot or peach jam
Directions:
1. Make a dough from flour, butter, sugar, salt, egg yolks, and vanilla.
2. Press the dough into cookie sheet with your fingers, forming a rim.
3. Spread thin layer of peach or apricot jam on top of dough. Now put the plums in rows on the dough.
4. Beat egg whites slightly and brush over plums, sprinkle two tablespoons of flour over egg whites.
5. Bake at 375 degrees F for 40 minutes. If too sour, shake some powdered sugar on top. This can also be made in the winter substituting apples for the plums.
You can enjoy your German plum pie!