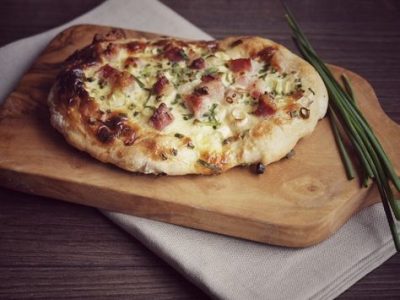 Schwäbische Dätscher (also called Bätscher), or Swabian Cream Cake, is a thin yeast flat bread spread with sour cream and topped with onion or leak and bacon.
Ingredients:
Dough
350g wheat flour
20g fresh yeast
1 teaspoon salt
40g butter
125ml milk
Filling
200g sour cream
1 egg yolk
salt
1/2 bunch chopped chives
100 g bacon (optional)
Preparation:
Melt the butter and add it with the flour and salt to a large bowl. Dissolve the yeast in the lukewarm milk. Add this mix to the bowl and knead it well. Cover the bowl with a kitchen towel and let it rise at a warm place for an hour and a half.
Preheat the oven to 250°C. Roll the dough and cut it to 4 pieces. Roll the pieces out to little circles about 10 cm in diameter. Press the middle of the dough a bit so that the edge is a bit higher (to avoid the filling running out).
Mix the sour cream with the salt, bacon (if using) and chives, and apply it on top of the dough. Bake for about 20min, until the dough is golden and the topping has a nice color.Tip: instead of the chives you can also use caraway or spring onions.