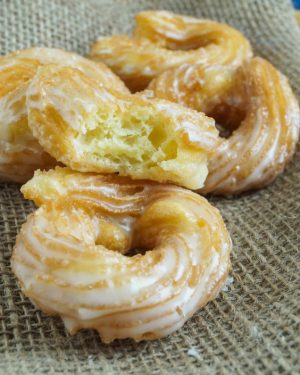 Spritzkuchen are fried pastries topped with powdered sugar or cinnamon or lemon icing. They are made of dense dough similar to that of doughnuts, but they are piped from a pastry bag.
Ingredients:
Dough:
250 ml milk
a pinch of salt
1 tablespoon sugar
50 g butter
200 g flour
4 eggs
1 packet of vanilla sugar
700 ml oil for deep frying
parchment paper
Icing:
300 g powdered sugar
3 dessert spoons lemon juice
Preparation:
In a pot over medium-high heat add milk, salt, sugar and butter and wait till they melt.
Reduce the heat a little bit and add the flour and stir with a spoon till you have a thick yet smooth dough.
Remove from heat and let it cool for 5 minutes, then add the eggs one by one and the vanilla sugar while mixing with an electrical mixer.
You will now have a sticky, thick but smooth dough. Fill it in a pastry bag with a wide star tip.
Cut 12 10×10 cm squares out of parchment paper and brush them with a thin layer of oil.
Pipe the dough into circles over the small paper squares.
Heat the oil on medium heat and fry the piped pastry around 2-3 minutes on each side till golden brown.
Once cooked remove with a slotted spoon and drain on kitchen paper and then leave to cool on a wire rack.
Sieve the powder sugar and mix with the lemon juice and some hot water. Mix until smooth, then brush the glaze over the crullers.