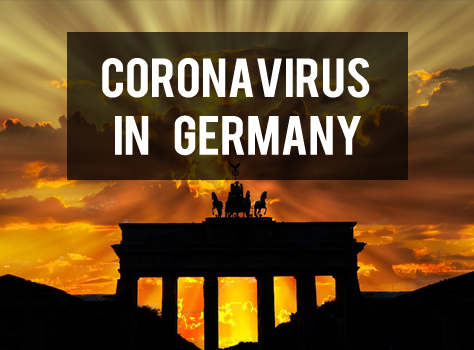 The 2019–2020 coronavirus pandemic was confirmed to have spread to Germany on 27 January 2020, when the first COVID-19 case was confirmed in Bavaria. The majority of the COVID-19 cases in January and early February originated from Webasto headquarters in Bavaria and, seemingly, from there to Northern Italy, where Webasto has offices.
Later, new clusters were introduced by travellers from Italy, China and Iran. German disease and epidemic control is advised by the Robert Koch Institute according to a national pandemic plan.
There is currently no vaccine to prevent coronavirus disease (COVID-19).
You can reduce your risk of infection if you:
Clean hands frequently with alcohol-based hand rub or soap and water.
Cover nose and mouth when coughing and sneezing with tissue or flexed elbow.
Avoid close contact (1 m or 3 feet) with anyone with cold or flu-like symptoms.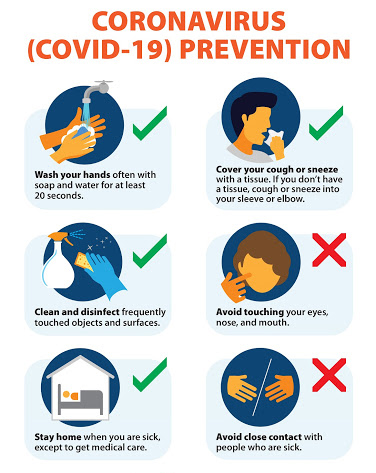 COVID-19 statistic in Germany as of April 12, 2020
(via http://bit.ly/38Uhg1g)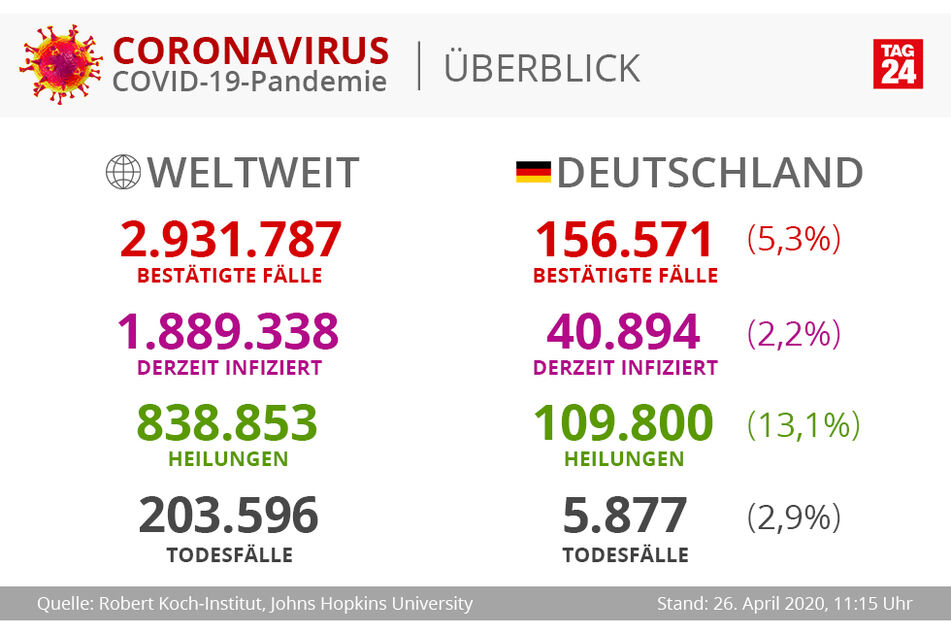 Live map with updates: http://bit.ly/Germany-live-map.
COVID-19 has spread to every state in Germany, and public life is set to slow down. Schools, restaurants and non-essential businesses have closed while holiday travel is prohibited and borders are partially closed. German Chancellor Angela Merkel announced new measures on March 16, 2020 to try to prevent the further spread of COVID-19 in Germany. Non-essential businesses and shops will shut down, while religious gatherings will be prohibited and holiday travel will grind to a halt.
"There have never been measures like this in our country before," Merkel announced. "They are far-reaching, but at the moment they are necessary."
Supermarkets, pharmacies, petrol stations, banks, post offices, delivery services, dry-cleaners and hairdressers will be among the businesses that will remain open. The announcement came as Germany essentially closed its borders to Austria, Switzerland, France, Luxembourg and Denmark. Key among the new restrictions is the ban on holiday travel. Non-Germans who are not resident without a valid reason will be refused entry at the borders.
Thousands of schools and kindergartens also closed down on March 16. Playgrounds and other outdoor recreation centers will also be shut down or closed off. Many people will work from home and have been advised to practice "social distancing" — removing themselves from social situations as much as possible to stop the virus from spreading.
How COVID-19 has affected life in Germany
Panic-buying has left empty shelves in supermarkets — and food banks. With Germans snapping up canned goods and toilet paper to weather the outbreak, stores have fewer supplies left over to donate to the needy.
After playing one match behind closed doors, the Bundesliga has suspended its season until at least April 2. The Germany football league had considered playing matches behind closed doors until Paderborn's coach Steffen Baumgart and defender Luca Kilian tested positive for COVID-19.
Cultural life has also taken a hit, with major fairs and trade shows canceled or postponed. Among the casualties were the Leipzig Book Fair and the Musikmesse Frankfurt, Europe's biggest music trade fair. Numerous clubs, galleries and museums have closed across the country, and the gala award show for the annual German film and television award, the Goldene Kamera, has been moved to November.
The Chinese origin of the virus has led to an increase in xenophobic sentiment in the places worst hit by the outbreak. Asian restaurants and stores — not just Chinese — have reported empty tables in countries hard hit by the pandemic, and people with Asian features have experienced discrimination. At a recent Bundesliga game in Leipzig, a group of Japanese fans was ejected from the stadium.
Car plants in China have been shut down since January, and major German automakers like Volkswagen and Daimler have said both sales and production have been hit by the epidemic. And with many automakers sourcing electric car parts from China, work at plants in Germany has also hit a stumbling block. Berlin has said it plans to financially support companies suffering coronavirus losses.