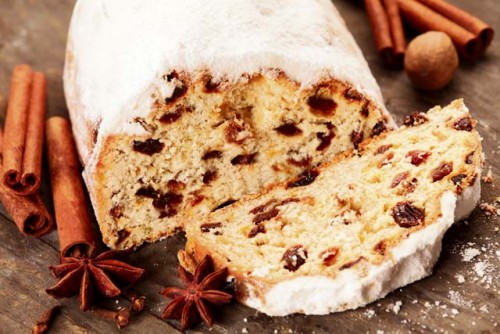 Stollen is a fruit bread containing dried fruit and often covered with powdered sugar or icing sugar. The bread is usually made with chopped candied fruit and/or dried fruit, nuts and spices. Stollen is a traditional German bread usually eaten during the Christmas season, when it is called Weihnachtsstollen (after "Weihnachten") or Christstollen (after Christ).
Ingredients:
500 g raisins
100 g currants
100 g candied lemon peel
100 g candied orange peel
250 g chopped almonds
3 packs vanilla sugar
6 tablespoons of rum
12 drops of bitter almond flavoring or 40 g bitter almond, finely ground
1 kg wheat flour
84 g fresh yeast
150 g sugar
250 ml milk
2 egg yolks
700 g butter
125 g icing sugar to decorate Stollen
15 g salt
1 lemon
Preparation:
1. Mix raisins, currants, candied peel, almonds, 2 packs vanilla sugar, zest and juice of a lemon and rum. Let mixture rest for 6 hours (or overnight).
2. Sieve flour into a bowl. Make a well in the center and pour the crumbled yeast, a tablespoon sugar and the lukewarm milk into the center and mix with a little bit of flour. Lay a tea towel over the bowl and let this rise for 15 minutes in a warm room.
3. Add the remaining sugar, salt, egg yolks, 400 g butter (butter in knobs). Knead into dough. In case you are using a food processor knead for 30 minutes on lowest level. Then let the dough rise for 30 minutes covered with a tea towel.
4. Roll dough, add fruit mixture. Knead dough quickly and let it rise for 30 minutes (while being covered). Knead again. Shape the dough in a roughly oval form, 3-4 cm thick, fold dough in half lengthwise and put it on baking tray. Let the dough rise for 15 min.
5. Preheat oven to 175° C. Bake for 80 minutes (without air circulation or foil). Position rack in lowest third of oven.
6. Immediately after baking: pierce stolen all over with a wooden needle and brush it on the top and underneath with 150 g brown melted butter and then cover the top with powdered sugar with a sieve. Let it cool down overnight.
7. Let it rest for 1 or 2 weeks tightly wrapped in foil and plastic bags in a cool place (but not in the fridge).