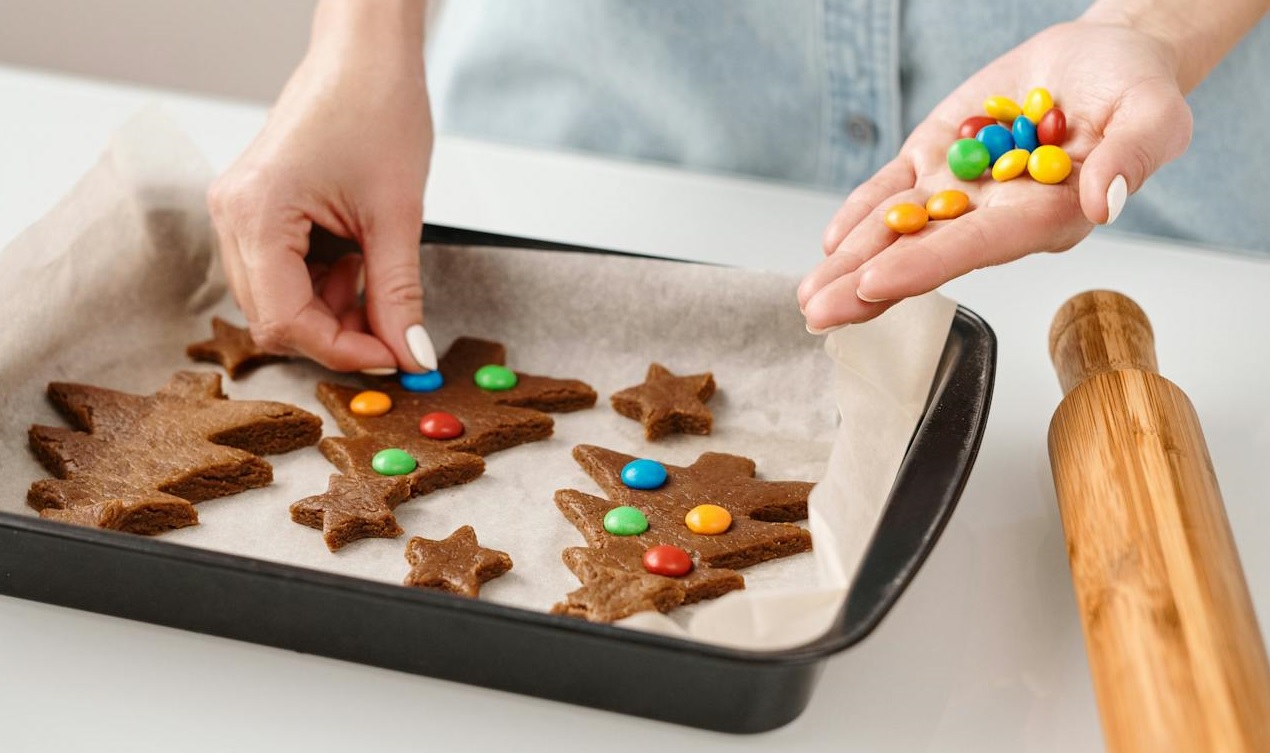 The Christmas season in Germany is a time rich in tradition and culinary delights. Known as 'Weihnachten', this festive period is celebrated with a variety of unique dishes that have been passed down through generations. Each recipe carries the warmth of the holiday spirit and the rich flavors of German cuisine. Here are the 15 best German Christmas recipes to try this holiday season.
Stollen is a fruit bread laden with nuts, spices, and dried or candied fruit, coated with powdered sugar or icing. It's a festive staple that can be made weeks in advance, allowing the flavors to develop over time.
Lebkuchen are traditional German Christmas cookies resembling gingerbread. They are made with a variety of spices, nuts, and candied fruit, offering a delightful aroma and taste that's synonymous with the holidays.
A mug of Glühwein is essential to ward off the chill of a German winter. This warm beverage is made with red wine, mulling spices, citrus, and a hint of sweetness—a perfect drink to enjoy on a cold Christmas Eve.
4. Gebrannte Mandeln (Candied Almonds)
Commonly found in German Christmas markets, these sweet, crunchy almonds are toasted with a sugary glaze. They make for a great homemade gift or a snack during the festive season.
A warm potato salad often accompanies Christmas dinners in Germany. Unlike its American counterpart, the German version is typically made with a warm broth, vinegar, and mustard dressing and often includes bacon or speck.
Rouladen is a traditional German dish of rolled-up beef, which is filled with onions, pickles, and bacon. It's a hearty meal that is often served with red cabbage and dumplings or potatoes.
This classic pot roast is a labor of love, marinated for days in a mixture of vinegar, water, and various seasonings before being slow-cooked. It's a savory dish that's particularly popular during the holiday season.
8. Christstollen Trifle
Trifles are an excellent way to repurpose Stollen. Layer slices of this Christmas bread with custard, fruit, and whipped cream for a modern twist on a traditional dessert.
These small, potato-shaped marzipan treats are a sweet surprise. Made with almond paste and sugar, they're a delightful confection enjoyed during Christmas.
Spekulatius are thin, crunchy cookies made with a special blend of spices like cinnamon, cloves, and nutmeg. They're often shaped into festive figures and are perfect for dunking in your Glühwein.
While sauerkraut is a year-round staple, it takes on a special role during Christmas with the addition of apples, giving it a festive twist. It complements rich meats beautifully.
A chewy, nutty delight, these macaroons are made with ground hazelnuts. They are light, yet indulgent cookies that melt in your mouth.
Apfelstrudel is a popular dessert in Germany, particularly during Christmas. It's made with a thin dough rolled around a filling of tart cooking apples, sugar, cinnamon, raisins, and breadcrumbs.
These meatballs are different from your regular fare, simmered in a creamy sauce with capers and lemon juice, offering a tangy flavor that's both comforting and sophisticated.
Roasted goose is a classic German Christmas dinner. Stuffed with apples, chestnuts, onions, and prunes, it's traditionally served with red cabbage and Klöße (potato dumplings).
These recipes not only embody the essence of German culinary traditions but also offer a sense of togetherness, which is at the heart of the holiday season. Preparing these dishes can be a wonderful way to introduce your family to the rich tapestry of German Christmas customs and flavors.
When planning your holiday menu, consider starting with the hearty Rinderroulade or Sauerbraten as the main dish. Accompany them with sides such as Kartoffelsalat or Sauerkraut with Apples for a balanced meal. For dessert, the decadent Apfelstrudel or the unique Christstollen Trifle will surely impress your guests. Don't forget to set the mood with a warm mug of Glühwein, perfect for toasting to health, happiness, and holiday cheer.
Incorporating these German Christmas recipes into your festive celebration not only guarantees a delicious spread but also creates an opportunity for a cultural experience that will be remembered for years to come. Frohe Weihnachten!
---
Tips for Cooking German Christmas Recipes:
Start Early: Some recipes, like Stollen, benefit from being made ahead of time. This allows the flavors to meld and develop, resulting in a tastier dish.
Quality Ingredients: Traditional German recipes rely on the quality of their ingredients. Use the best you can find, especially when it comes to spices, for authentic flavor.
Slow Cooking: Dishes like Sauerbraten require patience. Slow cooking at low temperatures ensures tender meat and rich flavors.
Presentation: German cuisine is often hearty and rustic, but that doesn't mean it can't be presented beautifully. Take time to garnish and arrange your dishes for the full festive effect.
Whether you're a seasoned cook or a novice in the kitchen, these German Christmas recipes are sure to bring warmth and joy to your holiday table. Enjoy the process of creating these traditional dishes and the pleasure of sharing them with loved ones.