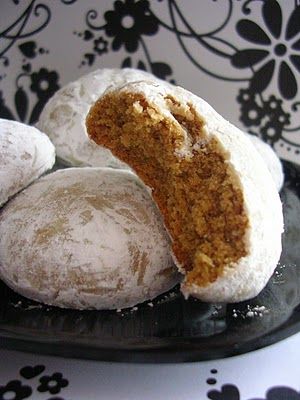 Pfeffernüsse are tiny spice cookies, popular as a holiday treat in Germany around Christmas. These cookies with cinnamon, ginger, nutmeg, and a hit of black pepper are ideal for the holiday season.
Ingredients:
1/2 cup molasses
1/4 cup honey
1/2 cup unsalted butter
4 cups all-purpose flour
3/4 cup white sugar
1/2 cup brown sugar
2 teaspoons ground cinnamon
1 1/2 teaspoons baking soda
1 1/2 teaspoons ground cardamom
1 teaspoon ground allspice
1 teaspoon ground nutmeg
1 teaspoon ground cloves
1 teaspoon ground ginger
1 teaspoon ground black pepper (freshly ground is best)
1/2 teaspoon table salt
2 eggs, lightly beaten
2 teaspoons anise extract
1 cup confectioners' sugar for dusting
Preparation:
1. In a heavy-bottomed pot, combine the molasses, honey, and butter.  Place the pot over low heat, stirring often until the butter has melted, all the ingredients are completely combined, and the mixture is creamy.  Do not boil.  Remove the pot from the heat, pour the mixture into a large bowl, and set aside and allow the mixture to cool to room temperature.  Stir in the beaten eggs and the anise extract.
2. While the mixture is cooling, sift together the flour, white sugar, brown sugar, cinnamon, baking soda, cardamom, allspice, nutmeg, cloves, ginger, black pepper, and salt in a separate bowl.  With a large wooden spoon, gradually stir in the sifted dry ingredients with the molasses mixture until everything is thoroughly combined (the dough will be stiff by this point).  Chill the dough in the refrigerator for a minimum of 2 hours.
3. After the dough has chilled, preheat the oven to 325°F (165°C).  Grease several baking sheets.  Roll the dough into small balls (about 1/2-inch in diameter).  Place the balls on the greased baking sheets, spacing them at least 1 inch apart, as they will spread slightly.
4. Bake the cookies in the preheated oven for 12 to 15 minutes, until the cookies have lost their shiny look and are slightly firm to the touch (but still soft).  The cookies may have some small cracks as well.  Using a thin spatula to remove the cookies from the baking sheet, move them to a rack to cool.  Once the cookies have cooled completely, roll each cookie in sifted confectioners' sugar to coat thoroughly.  Store in an airtight container with wax paper between the layers at room temperature.  Allow the cookies to "age" at least 24 hours before serving (a few days to a week is even better).  If desired, roll cookies in confectioners' sugar to coat them once more before serving.
Photo credit: https://www.pinterest.com/pin/506514289326192224/