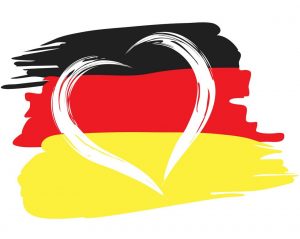 With the fifth largest economy in the world, Germany is Europe's land of opportunity for skilled professionals. In addition to high job security and a favorable work-life balance, people are also thrilled with how safe the country is and with its high quality of medical care.
For about two centuries, Germany was a land people migrated from, not to. But times have changed, and so has Germany. With a booming economy, it attracts talent from the rest of Europe and beyond. German universities are reporting more foreign students and researchers, and many of those stay and found companies – in that respect Berlin, where 43% of tech startups are launched by immigrants, is second only to Silicon Valley (46%) and ahead of London, Tel Aviv and Paris.
This trend may be surprising given the alleged barrier of "the awful German language," as Mark Twain memorably described it, with its tricky cases, genders and inflections. And yet branches of the Goethe Institute, a network of culture centers that teach German, are doing brisk business from Latin America to Asia. Something similar could be said about Germany's awful bureaucracy (too bad Mr. Twain omitted that angle!). Even there, Germany has improved: several reforms have made it much simpler for German firms to recruit abroad, for example.
Many of those coming to Germany would in the past have gone to America or Britain instead. But America in the age of President Trump, with headlines full of travel bans and walls to be built, has lost some of its draw. Britain could careen for years toward who-knows-what-kind-of Brexit. In Germany, however, the government is rolling out a red carpet by simplifying immigration procedures, funding free language classes, even opening " welcome centers" for newcomers. So bankers, students, artists and others look to Germany instead, pursuing their German Dream.
One in five foreigners in Germany work in the IT industry. As the country is experiencing a skills shortage in this area and experts are in high demand, many have found a safe and secure job in this field. Indeed, the highest percentage of expats (17%) list having found a job in Germany as their main reason for moving abroad.
Once people settle into their new job, they are happy to find that the average work week consists of 39 hours, leaving plenty of time to spend with family and friends and engage in leisure activities. At first, many newcomers find it difficult to adjust to the fact that stores in Germany are closed on most Sundays and in some states shut their doors in the early evening during the week. After a while, though, most learn to plan ahead and enjoy their leisurely Sundays.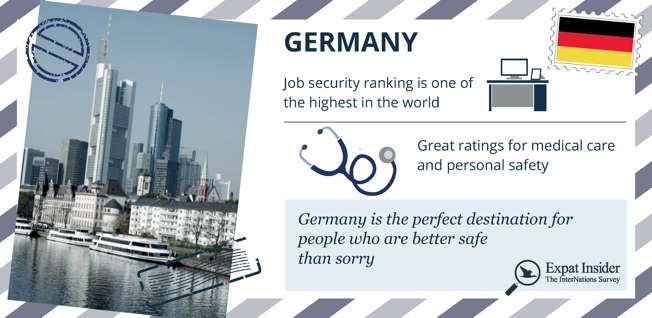 When it comes to personal safety in Germany, according to the Expat Insider 2016 survey, expats feel that it is possible for them to move about freely in their neighborhoods, cities, and the country in general, without fearing for their personal safety.
Foreigners appreciate being able to walk around Germany's cities and sleep peacefully in their beds each night, all the time feeling safe and secure. Even during the Oktoberfest in Munich and after World Cup soccer games, foreigners are often surprised at the relatively low amount of trouble that Germans get into, compared to what they would expect to see in other countries.

While Germany ranks very high for job security, quality of medical care, and personal safety, there are some areas in which it falls far behind other countries. First of all, only one in ten people are very happy with the climate and weather in this European country. Luckily, with excellent transportation options and a central location within Europe, escaping to sunshine and warmer climes for a long weekend or extended vacation is a breeze.
Expats in Germany also find it quite difficult to settle into life here and make new friends, especially local ones. The cool and distant outward demeanor of many Germans is often interpreted as rudeness. The blunt, frank way of speaking and expressing opinions can come off as tactlessness. Only 14% of the survey respondents think the local German population is very friendly and the country ranks a miserable 50th out of 61 in terms of overall friendliness.
Despite this less-than-ideal result, expats who manage to crack the hard outer shell and become friends with Germans will find that they have made friends for life. Although excellent knowledge of English is widespread throughout Germany, being able to converse in German will help pave the way to feeling at home and making local friends.

Germany is by far the leading trading country in the continent in terms of volume and value. With a largely very prosperous population of around 82 million, the German economy remains one of the most outstanding economies in the world. It is only a few hundred miles from the UK – and it has been forecast to grow at around 1.5% each year over the next 20 years.