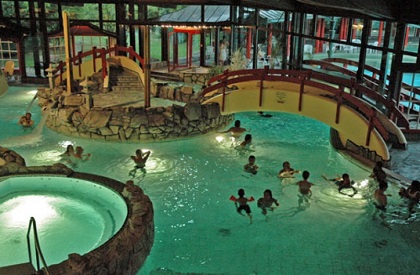 German spa culture is an adopted tradition taken from the Romans. During the time of Roman Empire bathing was used by soldiers returning from battle as a form of hydrotherapy. The word spa itself is a Latin acronym meaning 'health by water' or sanus per aquam. Mineral sources were particularly soothing remedies then as now.
Today, Germany has one of the most comprehensive spa cultures in Europe, with the support of the German federal health care system to boot! The German equivalent for spa is Heilbad or 'healing bath' or Kurort which literally mean 'cure place'. Any town in Germany can qualify and choose to use the prefix 'Bad' or bath before their town name i.e. Bad Soden. Those towns that qualify have met the strictest air and water quality standards and have been able to establish the necessary medical staff and infrastructure to cater to those seeking treatment.
German spas are not simply a generic collection of saunas and mineral baths. There are several distinctions in the ranking of cure towns.
Germany differentiates between:
1. Kneipp spas, adhering to hydrotherapeutic healing methods developed by Sebastian Kneipp
2. Mineral spas, subscribing to using mineral-based healing methods
3. Marsh or Moor spas, using marsh-based healing techniques and products
4. Sea spas, focusing the healing methods of the surrounding environment or seascape
5. Salt water spas, using salt-based hydrotherapeutic healing methods
Germans are very particular when it comes to spa etiquette and if you want to blend in easily make sure you pay attention to certain unwritten rules. Swimsuits are worn in many of the areas and in the pool but in the saunas, steam baths and massage areas it is typically "towel only" or as it is more commonly referred to in German "Freikörperkultur" or FKK. Europeans have a very casual attitude toward the human body; baring all is not seen as shameful or embarrassing. Showering before you enter the pools, saunas and steam baths is expected. Hang up your bathing suit on the hooks provided as you enter the designated "towel only" areas. Your flip-flops or bathing shoes are left outside of the saunas but can be worn in the steam baths. Always enter the sauna quickly and close the door well to ensure minimal heat loss. Sit or lie on your towel with every body part on it. Germans are very particular about not water-staining the wooden benches.