April 24
Feast Day of St. Marianus von Regensburg
Marianus (? – 1083) was born in Ireland. He left his home on a Pilgrimage to Rome but only got as far as Germany. He became a Benedictine monk in Bamberg. He then moved to Regensburg where he founded the Monastery of St. Peter and became the Abbot.
April 24, 1662
Death of St. Markus Roy (Fidelis von Sigmaringen) (1578 – 1622) St. Markus Roy was born in Sigmaringen (near Freiburg), Germany, in 1578. He studied canon and civil law at the University of Freiburg. He started his practice of law in 1611. Dismayed at the corruption he found in the courts, he gave up is profession and studied for the priesthood. He was ordained a priest in 1612. At that time he took the name Fidelis. He undertook further studies in theology at Constance. He preached and wrote ceaselessly against Calvinism and Zwinglianism. He was then sent as a missionary into Switzerland to attempt to bring that area back to the Catholic church. On April 24, 1622 he was killed by an angry mob. He was beatified as a martyr in 1729 and canonized in 1745 by Pope Benedict XIV. His feast day is April 24.
April 24, 1796
Birth of Karl Leberecht Immermann in Magdeburg, Germany. Immermann was a dramatist and novelist of the early period of Realism. Among his noted works are Das Trauerspiel in Tyrol (1828), Merlin (1832), Tulifäntchen (1830), Die Epigonen (1936), and Münchhausen (2 parts, 1838 and 1839).
April 24, 1819
Birth of Klaus Groth in Heide, Germany (Holstein). Groth was a professor at the University of Kiel. He had grown up speaking Plattdeutsch and was moved to write poetry in his native dialect (Ditmarschen). He was inspired by the dialect poems of Robert Burns in Scotland and those of Johann Peter Hebel who wrote in Swabian dialect. Some of his poetry gained much wider recognition after Johannes Brahms set them to music.
April 24, 1837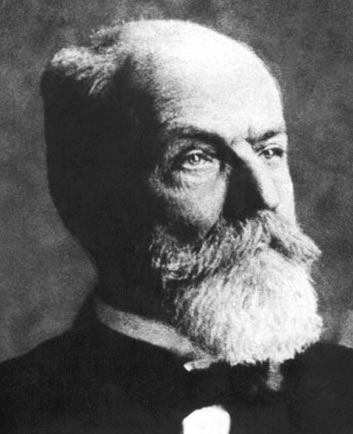 Birth of Friedrich von Holstein (1837-1909) in Schwedt an der Oder, Germany. Holstein was a member of the Prussian diplomatic service who was stationed in the United States from 1865-1867. After the departure of Otto von Bismarck he became the most influential voice on foreign policy during the reign of Wilhelm II. He never held the position of foreign minister, but for a time had the real influence in that area. He thus earned the nickname, "Die graue Eminenz". Holstein had been a friend of Bismarck's since childhood and it was Bismarck who brought him into the Prussian diplomatic service in 1860. After Bismarck's departure Holstein found himself at first more influential that the foreign minister but gradually he became more and more at odds with the impulsive policies of the emperor and finally was dismissed in 1906.
April 24, 1845
Birth of Carl Spitteler in Liestal, Switzerland. He won the Nobel Prize for Literature in 1919 for his epic poem Der olympische Frühling (1900-1905). His other great epic was Prometheus der Dulder (1924). He also wrote many lyric poems, a novella and short stories.
April 24, 1873
Birth of Theodor Körner in Komarno, Hungary. Körner was a colonel in the Austrian army when World War I began. By 1915 he had risen to the office of chief of staff. He was named inspector general of the new Austrian army after the war. He then became a delegate to the Bundesrat. He opposed the merger with Germany in 1938. After World War II he became the mayor of Vienna. In 1951 he was elected the president of Austria.
April 24, 1876
Birth of Erich Raeder in Wandsbek, Germany. Raeder was commander of the German navy from 1928-1943. Immediately upon his appointment he began to work for the building of a submarine fleet although this was forbidden by the Versailles Treaty. He also began to build cruisers. He came into disputes of strategy with Hitler and was thus replaced in 1943. After the war he was tried for war crimes and sentenced to life in prison, but was released in 1955 due to ill health. (He lived until 1960.)
April 24, 1889
Death of Solomon Formstecher in Offenbach, Germany. Formstecher was a philosopher and rabbi in Offenbach. His most noted book is Die Religion des Geistes published in 1841.
April 24, 1891
Death of Helmuth von Moltke in Berlin, Germany. General von Moltke was the mind behind the Prussian victories in the wars against Denmark (1864), Austria (1866) and France (1871). He was the first to recognize the strategic significance or railways in war. He worked closely with Otto von Bismarck in these undertakings.
April 24, 1933
Death of Felix Adler in New York City (born in Alzey, Germany). Adler immigrated to the United States in 1856 with his family. He returned to Germany for university studies at Berlin and Heidelberg. He then returned to the United States and became a professor of Hebrew and Oriental literature at Cornell University and in 1902 a professor of political and social ethics at Columbia University. He founded the Society for Ethical Culture in New York City in 1876. He became a national leader in ethics and social reform.
April 24, 1939
Paul Harteck and Wilhelm Groth in Hamburg inform German Army Weapons about uranium fission, saying it may make possible powerful explosives.
April 24, 1958
Death of Richard Goldschmidt in Berkeley, California (born in Frankfurt am Main, Germany). Goldschmidt was a zoologist and geneticist. He began his career in Germany but fled in 1936 to the United States. In America he taught at the University of California at Berkeley. His life work was devoted to research on moths, worms and fruit flies. He discovered elements of intersexuality and genetic development.
Back to Today in German History Calendar