April 6, 912
Death of Bl. Notker Babulus (der Stammler)(ca. 840 – 912). Blessed Notker was born near St. Gallen, Switzerland in about 840. He studied at the school of the Monastery of St. Gallen and became a monk there. He wrote a large number of works during his lifetime as a teacher at the monastery school. He was beatified in 1512 by Pope Julius II. The word "Babulus" in his name translates to "stutterer", a , malady which was so pronounced as to become a part of his name. Notker's remains lie in the basilica in St. Gallen, Switzerland. His feast day is May 7. (In the Lutheran tradition his day of remembrance is set as April 6.)
April 6, 1528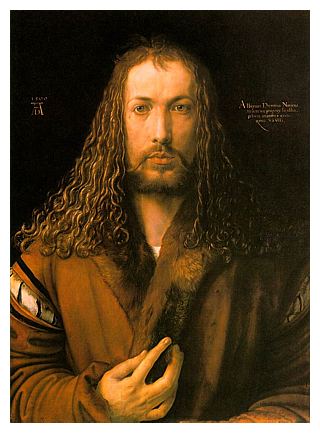 Death of Albrecht Dürer in Nürnberg, Germany. He was a friend of Philipp Melanchthon, Martin Luther and Desiderius Erasmus. He was appointed court painter to the Holy Roman Emperors, Maximilian I and Charles V. Dürer is noted principally for his woodcuts and wood engravings. Some of his best known works are "The Four Horsemen of the Apocalypse", "The Passion of Christ", "Adam and Eve", and "St. Jerome in his Study". He was also a painter. His "Self Portrait" is well known as is his "Adoration of the Magi" Dürer is also noted for his water-color studies of natural history.
April 6, 1660
Birth of Johann Kuhnau in Geising, Germany. Kuhnau was a composer and the cantor at the Church of St. Thomas in Leipzig from 1701 to 1722. He was succeeded in his position by Johann Sebastian Bach.
April 6, 1806
Birth of Friedrich Wilhelm Ritschl in Grossvargula, Germany. Ritschl was a classicist specializing in the works of Plautus. He served as a professor at the universities of Halle, Breslau, Bonn and Leipzig. It was at Bonn that he worked with a promising freshman, Friedrich Nietzsche. When Ritschl moved to the University of Leipzig in 1865, Nietzsche followed him and ultimately received his doctorate from Leipzig under the tutelage of Ritschl. It was Ritschl who recommended Nietzsche for his position at the University of Basel. Later after the attacks on Nietzsche's first book, Die Geburt der Tragödie, Ritschl distanced himself from his student.
April 6, 1904
Birth of Kurt Georg Kiesinger in Ebingen, Germany. Kiesinger (CDU) was the chancellor of West Germany from 1966-1969. His period of office was shared with foreign minister Willy Brand (SPD) during the "Grand Coalition". In the next term Willy Brand was elected chancellor and the coalition with the CDU was ended.
April 6, 1911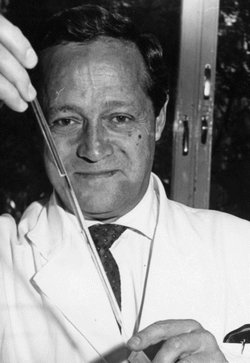 Birth of Feodor Lynen (1911-1979) in Munich, Germany. Lynen was a chemist at the University of Munich who won the Nobel Prize for Chemistry in 1964 for his research on the metabolism of cholesterol and fatty acids.
April 6, 1917
The U. S. Congress approves a resolution of war against Germany. (The resolution of war on Austria-Hungary will not follow until December 7.)
April 6, 1927
Death of Hugo Gressmann in Chicago (born in Mölln, Germany). Gressmann was an old testament scholar who was educated at the University of Kiel and was a professor at the University of Berlin. He is noted for his religio-historic approach to old testament studies. Noted books by Gressmann include Der Ursprung der israelitisch-jüdischen Eschatologie (1905), Der Messias (1929) and Die älteste Geschichtsschreibung und Prophetie Israels (1910).
April 6, 1929
Birth of Andre Previn (original name: Andreas Ludwig Priwin) in Berlin, Germany. Previn was a pianist, composer and conductor. He won four Academy Awards for his music. He arranged music for Metro-Goldwyn-Mayer and MGM. He was the director of the Houston Symphony Orchestra, the London Symphony, the Pittsburgh Symphony, and the Los Angeles Philharmonic. Previn immigrated to the United States in 1939.
April 6, 1972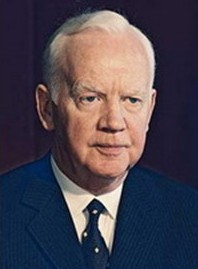 Death of Heinrich Lübke. Lübke was born on October 14, 1894 in Sundern, Germany. He would grow up to be the president of the Federal Republic of Germany (West Germany at that time). He studied economics and law at the universities in Berlin and Münster. He entered politics in 1931. In 1933 he was removed from all offices and sent to prison by the Nazis. In 1945 he reentered politics within the CDU party. He was very interested in agricultural policy and served in several posts with responsibility for that area. From 1959-1969 he served as President of the Federal Republic of Germany. (Remember that the President of Germany is a different office than that of the Chancellor. It is the Chancellor who is the head of government. During the time that Lübke was President, the chancellors were Konrad Adenauer, Ludwig Erhard and Kurt Georg Kiesinger.)
Back to Today in German History Calendar