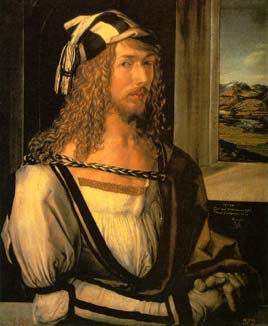 Sometimes it feels so good to get into high antiquity and have a look at the great masters whose works are still alive and admired. The art of 15th century in Germany is marked with the period of Renaissance. The revival of fine arts of that time was intensive and full of different schools and trends. The brightest star on the Renaissance sky of Germany was Albrecht Dürer (1471-1528), a German painter, engraver, printmaker, mathematician, and theorist from Nuremberg. His high-quality woodcuts (nowadays often called Meisterstiche or "master prints") established his reputation and influence across Europe when he was still in his twenties, and he has been conventionally regarded as the greatest artist of the Northern Renaissance ever since.


The most famous and outstanding artist of Germany of that time, Albrecht Dürer greatly contributed to the development of art and science. Dürer had an absolutely unique style of work, and he mostly polished it during his two visits to Italy, where he got acquainted with the great Bellini, who had a particular influence on his works. Dürer was exceptionally smart, and this caused his own treatise on proportion in 1528. There are more facts about Dürer than about any other artist of that time, and these data state that Dürer was a very reserved person, and never let his emotions out in front of the others. So they had to find their way in his fabulously beautiful works; that is probably why they look so touching.
As a young man, Albrecht Dürer was apprenticed to Michael Wolgemut, chief illustrator of the Nuremberg Chronicle. He traveled widely and his work as a painter was only exceeded by his ability to engrave on metal. During the first decade of the sixteenth century he was depicting plants in all his artworks with a new note of botanical accuracy. This was at a time when the plant world was introduced to exotic oriental bulbs and the science of botany broke away from medicine, to which it had long been subordinate. His work The Great Piece of Turf depicts the plants exactly as he saw them growing in the field, and his observations would have a lasting influence on the rendering of flowers in art well into the seventeenth century.
Dürer is often said to be Renaissance himself. It makes sense: his interest in geometry and mathematical proportions, his curiosity in exploring the world, his observations of nature, and his awareness of his own individual potential demonstrate the spirit of German Renaissance.