December 8, 1672
Death of Johann Christian Baron von Boyneburg in Mainz, Germany. He was a diplomat of the archbishop-elector of Mainz, Philipp von Schönborn. He was a principal negotiator of the League of the Rhine (1658) by which an alliance was struck between several small German states and France to defend against the re-establishment of Habsburg domination sought by the Holy Roman emperor, Leopold I.
December 8, 1815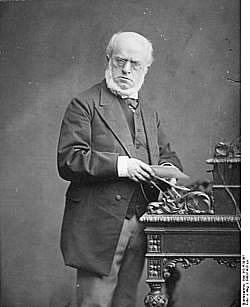 Birth of Adolf von Menzel in Breslau, Germany (now in Poland). Menzel was a very popular German Realist artist noted for drawings, etchings, and paintings. His paintings involving Friedrich the Great were favorites of the age.
December 8, 1896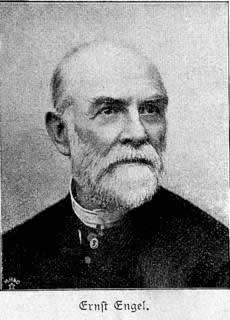 Death of Ernst Engel (1821-1896) in Radebeul, Germany. Engel was a statistician. He was head of the Saxon statistical office from 1854 to 1858 and the head of the Prussian statistical office from 1860 to 1882. He undertook a study of Belgian families in which he concluded that the income of a family is in inverse proportion to the proportion of income spent on food. This is now known as the "Engel curve". He also undertook a study of the size of the Prussian rye harvest in relation to the price of rye. This study was the first of its sort and led to the theory of supply and demand.
December 8, 1914
In World War I the German admiral Maximilian Graf von Spee is defeated by a British naval group near the Falkland Islands. Spee's flagship is sunk and Spee dies.
December 8, 1942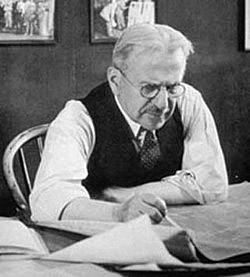 Death of Albert Kahn in Detroit, MI (born in Rhaunen, Germany). Kahn immigrated to the United States with his family as a teenager. He became an industrial architect, designing factories, primarily automobile factories. His first commission was in 1904 for the Packard Motor Company. He designed for most of the car companies, but most extensively for Ford, for which he planned over a thousand projects. Internationally his largest client was the Soviet Union for which he designed 521 factories.
December 8, 1976
The U.N. General Assembly re-elects Kurt Waldheim of Austria as Secretary General for a second term.
Back to Today in German History Calendar