February 2, 962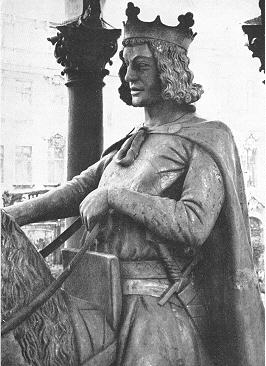 The Magdeburger Reiter: a tinted sandstone equestrian monument, c. 1240, traditionally intended as a portrait of Otto I (detail), Magdeburg
Otto I is crowned as Augustus (Emperor of the Holy Roman Empire) in Rome by Pope John XII. The empire as founded by Karl der Große (Charlemagne) had been divided after his death. Otto now refounded the empire which would remain intact until 1806.
February 2, 1700
Birth of Johann Christoph Gottsched in Judithenkirch, Germany (now in Russia). Gottsched was a writer and literary critic. He was a professor of poetry at the University of Leipzig from 1730 and a professor of logic and metaphysics from 1734. Among his theoretical works on literature, his Versuch einer kritischen Dichtkunst vor die Deutschen (1730) was the most influential. Gottsched worked closely with Caroline Neuber and her theater in establishing the Leipzig school of acting.
February 2, 1711
Birth of Wenzel Anton von Kaunitz in Vienna, Austria. Kaunitz was a minister of Austria and a powerful influence on the Empress, Maria Theresa. A long-time foe of Prussia, he was able to shift European alliances and, for a time, virtually isolate Prussia.
February 2, 1809
Birth of George Engelmann in Frankfurt am Main, Germany. Engelmann earned his MD at the University of Würzburg. In 1833 he immigrated to the United States where he became a physician in St. Louis, Missouri. In his botanical researches he discovered that the North American grape was immune to the plant lice, phylloxera. Subsequently grafts from American grapes were used in Germany to ward off the "Reblaus" which was having devastating effects on German grapes (and thus wine production). Engelmann died in St. Louis on February 4, 1884.
February 2, 1827
Birth of Oswald Achenbach in Düsseldorf, Germany. Achenbach was a landscape painter of the Düsseldorf School.
February 2, 1855
Birth of Friedrich Bechtel in Durlach, Germany. Bechtel was a professor of classics at the University of Halle. He was a leading scholar in the areas of Greek dialectology and Homeric criticism.
February 2, 1866
Birth of Helmut von Gerlach (1866-1935) in Mönchmotschelnitz, Germany (now in Poland). Gerlach founded the Nationalsozialer Verein in 1896 and wrote for the organization's paper, Die Zeit. In 1901 he became the editor of the Berlin weekly Die Welt am Montag. During World War I he was a leading pacifist. During the period of the Weimar Republic he remained active as a pacifist and was a leader in the Neues Vaterland organization and the Deutsche Liga für Menschenrechte. When Hitler came to power he fled to Austria and then to France. In France he was active as an anti-Nazi until his death in 1935.
February 2, 1926
The President of France from 1974-1981, Valery Giscard d'Estaing was born in Koblenz, Germany.
February 2, 1943
General Paulus and 300,000 German soldiers surrender at Stalingrad in World War II and are taken prisoner.
February 2, 1945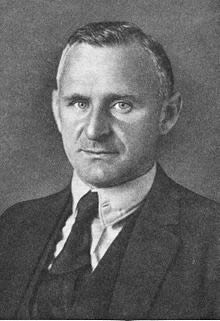 Hanging of Karl Friedrich Goerdeler (1884-1945) in Berlin, Germany. Goerdeler was a leader in the German resistance during WWII. He was deeply involved in the assassination attempt on Hitler. He would likely have taken control of the government had the attempt succeeded.
Back to Today in German History Calendar