February 25
Feast Day of St. Walpurgis (ca. 710-779) (Name also spelled Walpurga and Walburga) St. Walpurgis was the daughter of St. Boniface's sister. In about 748 she was called by St. Boniface to assist in the missionary effort in Germany. In 761 she became the abbess of the Benedictine monastery in Heidenheim. She is entombed in Eichstätt in the Church of St. Walburga. She was canonized by Pope Adrian II. Despite the similarity of the name, there is nothing to relate her to the "Walpurgisnacht" (April 30-May 1) except that in some records her canonization is indicated as on May 1.
February 25, 1591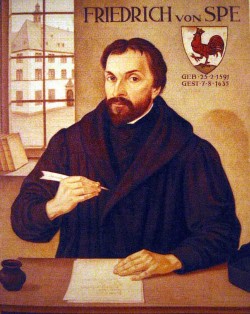 Birth of Friedrich von Spee in Kaiserwerth, Germany. Spee was a leading German poet of the 16th century.
February 25, 1634
Albrecht Wallenstein, the commanding general of the Holy Roman Empire in the Thirty Years' War dies (assassination). Wallenstein was born in Hermanice, Bohema (now in the Czech Republic). The classic dramatist Friedrich Schiller wrote a three part play about the life of Wallenstein.

February 25, 1649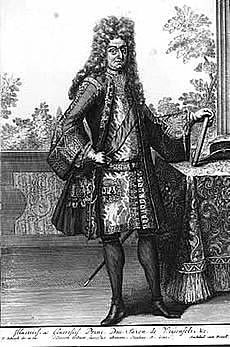 Birth of Johann Philipp Krieger (1649-1725) in Nürnberg, Germany. The composer, Johann Krieger, was the court organist at Bayreuth from 1670 and the music director at Halle and Weissenfels after 1680. He is known for his cantatas and fugues. Krieger died in Weissenfels, Germany on February 7, 1725.
February 25, 1842
Birth of Karl May in Hohenstein-Ernstthal, Germany. Since the turn of the century German youth have encountered the American frontier through the Wild West novels of Karl May. The novels of Karl May are among the all time best-sellers as ever new generations read of Winnetou and the other adventurous May characters. Some of the best known of the novels are Der Schatz im Silbersee (1894), Durch die Wüste (1892) and Winnetou (1893).
February 25, 1856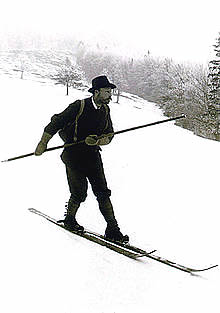 Birth of Mathias Zdarsky (1856-1940) in Trebitsch, Austrian Empire (now in the Czech Republic). Zdarsky was the inventor of Alpine skiing. He had learned something of Nordic cross country skiing and determined to adapt it to mountainous application. He started by using one pole, but determined that two work better. He became a ski instructor and wrote the first book on the sport, Die alpine Lilienfelder Skifahrtechnik (1897).
February 25, 1899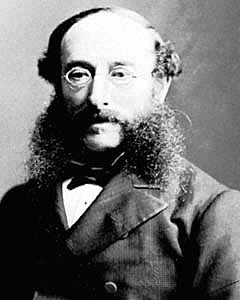 Death of Paul Freiherr von Reuter (1816-1899) (born in Kassel, Germany). He was the founder of a news agency, Reuters, which is still in a leading position globally. Born of Jewish heritage, Israel Beer Josaphat, he changed his name in 1844 when he became a Christian.
February 25, 1947
The four occupation powers in Germany make the decision to liquidate the state of Prussia.




Back to Today in German History Calendar