January 18, 1701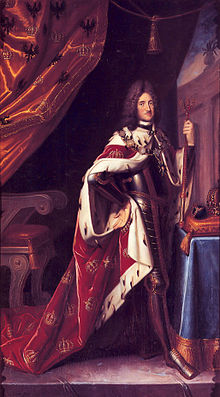 Frederick I of Prussia crowns himself king at Königsberg, Prussia (now Kaliningrad, Russia).
Frederick maintained a large, splendid court and an army out of proportion to his territories and position to further his pretensions.
In European politics, he allied himself with Austria and the sea powers (England and Holland) against France. Prussian troops were sent to the Netherlands (1688) to protect William of Orange's continental lands against expected French attacks when William crossed the Channel to accept the English crown. By this act Frederick hoped to gain the Dutch stadholdership for himself or his descendants, but he was eventually frustrated. Although, in the wars of the Grand Alliance against Louis XIV (1689–97), Prussia's contingents in the imperial army distinguished themselves everywhere, Prussia emerged practically unrewarded at the Treaty of Rijswijk (1697).
On Nov. 16, 1700, however, Austria and Prussia signed a secret treaty that permitted Frederick to crown himself king in Prussia, thus finally realizing his long-cherished ambition. Austria agreed to this elevation primarily to gain Prussian aid in the threatening war against France over the succession to the Spanish throne. In return, Frederick promised to send 8,000 troops beyond the normal Prussian contingent to the imperial army, to give preference to Habsburg candidates in imperial elections, and to vote with Austria on all important matters in the German Diet as far as Prussian interests permitted. Thus, when Frederick crowned himself in Königsberg on Jan. 18, 1701, Prussia was saddled with weighty obligations. Only his son, Frederick William I, and his grandson, Frederick II the Great, were able to exploit Prussia's enhanced position to the full and transform the new kingdom into a great European power.
January 18, 1815
Birth of Konstantin von Tischendorf in Lengefeld, Germany. Tischendorf was a Biblical critic who discovered, and in 1859 was able to procure, the Codex Sinaiticus, a manuscript from the 4th century with most of the Old and New Testaments. The manuscript is currently in the British Museum.
January 18, 1851
Birth of Heinrich Friedung in Roschtin, Austrian Empire (now in the Czech Republic). Friedung was an historian who taught at the Commercial Academy in Vienna until his anti-slavic views led to his dismissal. He continued throughout his life to express pro-Austrian, anti-slavic views in the context of the Austro-Hungarian Empire.
January 18, 1861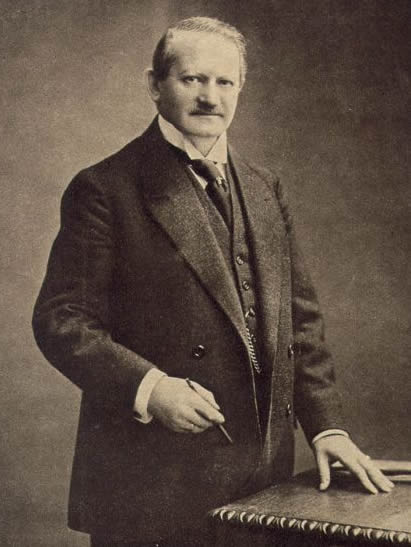 Birth of Hans Goldschmidt (1861-1923) in Berlin, Germany. Goldschmidt was a chemist who invented the Goldschmidt reduction process (the alumino-thermic process) which is used in welding along with other applications.
January 18, 1871
Foundation of the German Empire (Reich) and proclamation of Wilhelm I as Emperor (Kaiser) in Versailles.
January 18, 1903
Birth of Berthold Goldschmidt (1903-1996) in Hamburg, Germany. He had just begun to establish a reputation as a composer when the Nazis came to power and his work was banned. He fled to England where he was relegated to obscurity until the 80's when there was renewed interest in his work.
January 18, 1906
Birth of Hans Aeschbacher in Zürich, Switzerland. Aeschbacher is a sculptor who specializes in massive works of stone.
January 18, 1914
Birth of Arno Schmidt in Hamburg, Germany. Schmidt became a novelist after World War II. Among his works are, Die Gelehrtenrepublik (1957), Nobodaddys Kinder (1963), and Abend mit Goldrand (1975).
January 18, 1919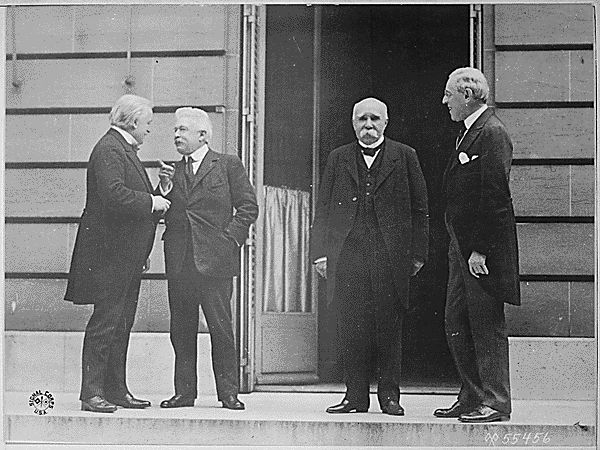 Lloyd George, Vittorio Emanuele Orlando, Georges Clemenceau, Woodrow Wilson
The Paris Peace Conference at Versailles opens officially to conclude WWI. Germany and Russia are not represented. Wilson is committed to his 14 Points and a League of Nations. Clemenceau seeks revenge. Lloyd George had been elected partly by promising that German war leaders would be punished. Orlando of Italy sought the territorial gains which the Allies had used to lure Italy into the war in the first place.
January 18, 1977
Death of Karl Zuckmayer in Visp, Switzerland. The writer, Karl Zuckmayer, won the Kleist Prize for Der fröhliche Weinberg (1923) and the Goethe Prize in 1952 for his collected works. Other works by Zuckmayer include Der Hauptmann von Köpenick (1931), Des Teufels General (1946) and Das Kalte Licht (1955). Zuckmayer fled Germany in 1939 and lived in the United States until 1946. Thereafter he resided in Switzerland.
January 18, 1995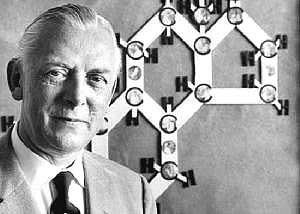 Death of Adolf Butenandt (1903-1995) in Munich, Germany. Butenand, a biochemist, won the Nobel Prize for Chemistry in 1939 for his work on sex hormones. The Nazi government, however, did not allow him to accept the award. He accepted it belatedly in 1949. Butenandt isolated estrone in 1929, androsterone in 1931 and progesterone in 1934. He discovered how to synthesize progesterone and testosterone. He was the first to isolate pheromones. Butenandt was president of the Max Planck Society from 1960-1972.
Back to Today in German History Calendar