July 6, 649
St. Goar died on this date in 649. St. Goar was born in Auitaine (modern France) in about 585. He became a priest. He determined to live his life in isolated prayer. In about 618 he found a location at Oberwesel near Trier (modern Germany). Word of his holiness soon spread, however, and his isolation was interrupted by numbers of pilgrims to whom he gave pious advice, thus further developing his reputation and the numbers of pilgrims. At one point the Bishop of Metz is said to have offered him the position of Bishop of Trier. He declined in favor of returning to his life of isolation and prayer. He died in 649. The city on the Rhine, St. Goar, is named for him. His designation as a saint predates the formal practice of canonization by a pope. His feast day is July 6.
July 6, 1415
Jan Hus is burned for heresy in Constance, Germany.
July 6, 1476
Regiomontanus (Johannes Müller) dies.
July 6, 1806
Birth of the magician, Johann Nepomuk Hofzinser in Vienna, Austria. He was a noted inventor of card tricks.
July 6, 1808
Birth of the historian Johann Gustav Droysen in Treptow, Germany (now Poland). Droysen was a devoted Prussian who was one of those influencing the ultimate unification of Germany under Prussian leadership.
July 6, 1817
Birth of Rudolf Albert von Kölliker in Zürich, Switzerland. The biologist was the first to recognize that tissue was made of cells.
July 6, 1832
Birth of Ferdinand Maximilian Joseph in Vienna, Austria. He was made Emperor of Mexico by Napoleon III.
July 6, 1854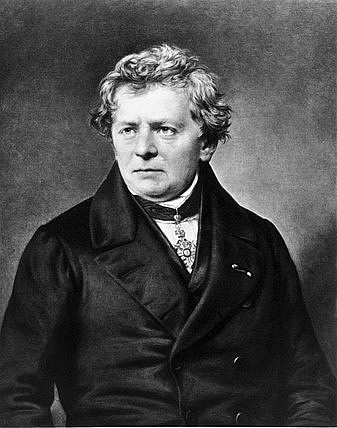 Death of Georg Ohm (1789-1854) in Munich, Germany. Ohm was a physicist at the Jesuits' College in Cologne and the Polytechnic School of Nürnberg. He discovered Ohm's Law, the flow of an electric current through a conductor is directly proportional to the voltage and inversely proportional to the resistance. In electricity, the unit of resistance is named for him
July 6, 1901
Death of Chlodwig Karl Viktor Fürst zu Hohenlohe-Schillingsfürst in Sankt Gallen, Switzerland (born in Rotenburg an der Fulda, Germany). He was the chancellor of the German Empire from 1894 to 1900 during the reign of Kaiser Wilhelm II. He was replaced by Bernhard von Bülow in October, 1900.
July 6, 1950
The German Democratic Republic signs a treaty with Poland recognizing the Oder-Neisse Line as the permanent border with Poland. (The Federal Republic of Germany does not recognize the border until 1970).
July 6, 1959
Death of George Grosz in Berlin. An artist known for his social satire, the Nazis called him the Cultural Bolshevist Number one.
July 6, 1973
Death of Otto Klemperer in Zürich, Switzerland (born in Breslau, Germany (now in Poland)). Klemperer was one of the world's leading conductors. He conducted the operas of Hamburg, Barmen, Strassburg, Cologne Wiesbaden and Berlin. During the Nazi period he conducted in Los Angeles and after the war in Budapest.
July 6, 2004
Death of Austrian President, Thomas Kleistl.  Kleistl died in office two days before he end of his term of office.  He had been president since 1992.  He was born on November 4, 1932 in Vienna.  He had been the Austrian ambasador to the United Nations (1978) and the Ambasador to the U. S. A. (1982).
Back to Today in German History Calendar