June 26, 1826
Birth of Adolf Bastian in Bremen, Germany. Bastian proposed a theory of cultural evolution which has similarities to and may have influenced Carl Jung's idea of the collective unconscious.
June 26, 1829
Death of Johann Heinrich Wilhelm Tischbein in Haina, Germany. Tischbein was a portraitist. Tischbein is remembered primarily because he was a friend of Johann Wolfgang von Goethe and painted the portrait of him "Goethe in the Campagna". (Other artists in the Tischbein family gained more note than Johann Heinrich Wilhelm.)
June 26, 1856
Death of Max Stirner (pseudonym of Johann Kaspar Schmidt) in Berlin, Germany. Stirner was a philosopher in whom 19th and 20th Century anarchists have found inspiration. His most widely know book is Der Einzige und sein Eigentum of 1845. He had worked extensively with Adam Smith's Wealth of Nations and in his own views gave the ultimate primacy to individualism.
June 26, 1881
Death of Theodor Benfey in Nörten, Germany. Benfey was a professor at the University of Göttingen. He made significant contributions to the study of Sanskrit and linguistics.
June 26, 1898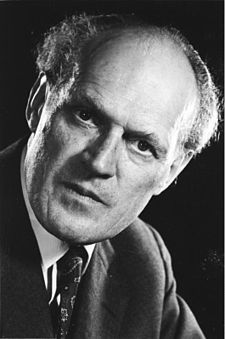 Birth of Wilhelm Emil "Willy" Messerschmitt (1898-1978) in Frankfurt am Main, Germany. Aircraft designer at the Bayerische Flugzeugwerke in Augsburg, which ultimately became the Messerschmitt-Bölkow-Blohm corporation.
Probably Messerschmitt's single most important design was the Messerschmitt Bf 109, designed in 1934 with the collaboration of Walter Rethel. The Bf 109 became the most important fighter in the Luftwaffe as Germany re-armed prior to World War II. To this day, it remains the most-produced fighter in history, with some 35,000 built. Another Messerschmitt aircraft, first called "Bf 109R", purpose-built for record setting, but later re-designated Messerschmitt Me 209, broke the absolute world air-speed record and held the world speed record for propeller-driven aircraft until 1969. His firm also produced the first jet-powered fighter to enter service — the Messerschmitt Me 262, although Messerschmitt himself did not design it.
June 26, 1943
Death of Birth of Karl Landsteiner in New York (born in Vienna). He won the Nobel Prize for Physiology or Medicine in 1930 for the discovery of blood groups and developing a system of blood typing.
June 26, 1906
Birth of the author, Stefan Andres, in Breitwies, Germany.
June 26, 1948
Start of the Berlin Air Lift.
June 26, 1957
Death of Alfred Döblin in Emmendingen, Germany. Döblin was a novelist of the Expressionist period. During WWII he lived in the United States. His works include, Wallenstein, Berge, Meere und Giganten and Berlin Alexanderplatz.
June 26, 1963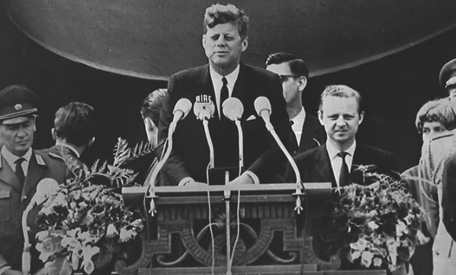 John F. Kennedy visits West Berlin to celebrate the 25th anniversary of the Berlin Airlift. In pledging solidarity and support to the people of Berlin, he made the famous speech which concluded with the words, "Ich bin ein Berliner". There is an urban legend that Kennedy, by using the indefinite article "ein," actually said that he was a jelly doughnut or pastry known as a "Berliner." While it is true that a native Berliner would simply say "Ich bin Berliner," Kennedy was correct to use "ein" because it indicated that he was expressing solidarity with Berliners, and not literally a Berlin citizen.
June 26, 1988
Death of Hans Urs von Balthasar. Hans Urs von Balthasar was born in Lucerne, Switzerland on August 12, 1905. He studied philosophy and German literature at the universities of Zurich, Vienna and Berlin. He became a Jesuit in 1929. He completed his theological studies with Henri de Lubac. He left the Jesuit order due to conflicts in views in 1950. Over time his work gained the admiration of such leaders in theology as Pope John Paul II, Cardinal Joseph Ratzinger, Henri de Lubac and Bishop Karl Lehmann. In 1988 he was named a cardinal by Pope John Paul II but died two days before the ceremony (June 26, 1988). Important works by Balthasar include, Herrlichkeit (1961-1969), Cordula (1966), Theodramatik (1973-1983), Die antirömische Affekt (1974) and Theologik (1985).
Back to Today in German History Calendar