March 14, 968
Death of St. Mathilda (ca. 895 – 968). St. Matilda, the wife of the German king Heinrich I was born in about 895 in Engern, Saxony, Germany. Matilda and King Heinrich married in 909. She was the mother of Otto who would become the Emperor of the German Empire (a.k.a. Holy Roman Empire). Her son Bruno became the Archbishop of Cologne. Her daughter, Gerberga married Louis IV of France. As queen, Matilda was noted for her piety, generosity and humility. After her son Otto had become king, she gave up her properties and retired to Engern, Westphalia, Germany. She was later called back to the palace by Otto. She built many churches and supported many monasteries. She was venerated as a saint immediately after her death on March 14, 968. Her feast day is March 14. She is entombed in Quedlingurg, Germany.
March 14, 1681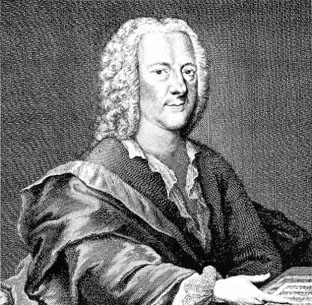 Birth of the composer, Georg Philipp Telemann (1681-1767), in Magdeburg, Germany. As a young man he was discouraged by his family from looking to music as a career. He studied at the University of Leipzig in the field of law. His musical talents, however, were too great to be overlooked. He was asked to assist in composing at the Church of St. Thomas in Leipzig and began directing the Leipzig Opera. In 1708 he became concertmaster in Eisenach, in 1712 in Frankfurt and 1721 in Hamburg. He remained in Hamburg until his death in 1767. In 1722, though, he was offered the opportunity to become the organist at the Church of St. Thomas in Leipzig. He declined. (The position was later offered to and accepted by Johann Sebastian Bach.)
March 14, 1759
Death of Georg Friedrich Händel.
March 14, 1793
Birth of Karl Lachmann in Braunschweig, Germany. Lachmann, a language professor at the Friedrich Wilhelm University in Berlin determined the phonetic and metrical character of Middle High German. He also established a school of textual criticism which set the groundwork for the rigorous method of scholarship to follow. In addition to his work with German he published critical editions of a number of Latin works. Lachmann died on March 13, 1851 in Berlin.
March 14, 1803
Death of Friedrich Klopstock in Quedlinburg, Germany. One of the more important poets in German literature, Klopstock had the effect of breaking the rationalist tradition of his century. No doubt his best known epic poem is Der Messias (The Messiah).
March 14, 1804
Birth of Johann Strauss (the elder) in Vienna.
March 14, 1853
Birth of Ferdinand Hodler in Bern, Switzerland. Hodler was one of the outstanding Swiss painters of the turn of the century. He is known for his landscapes and portraits as well as for his nudes which are remarkable for the transcendent symbolism of their ritualized gestures.
March 14, 1854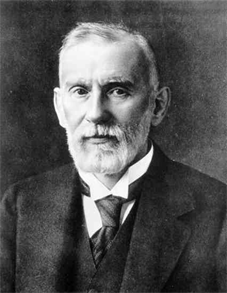 Birth of Paul Ehrlich (1854-1915) in Strehlen, Germany (now in Poland). Ehrlich found the first cure for syphilis. He developed significant advances in the diagnosis of tuberculosis. In his studies of immunity he developed the "side chain theory". He advanced beyond immunization and made great progress in chemotherapy. He was awarded the Nobel Prize for Physiology or Medicine in 1908.
March 14, 1864
Birth of Alfred Redl in Lemberg, Austria. Redel was head of Austrian army intelligence from 1907 to 1912. Unfortunately for Austria, he had been a spy for the Russian tsar since 1902. During that period Austria had few military secrets from Russia. Redel's activities were discovered in 1913. He took his own life shortly thereafter.
March 14, 1879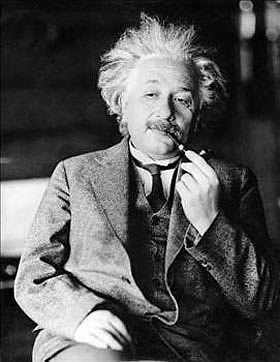 Birth of Albert Einstein (1879-1955) in Ulm, Germany. Einstein was a theoretical physicist who developed the general theory of relativity, one of the two pillars of modern physics (alongside quantum mechanics). While best known for his mass–energy equivalence formula E = mc2 (which has been dubbed "the world's most famous equation"), he received the 1921 Nobel Prize in Physics "for his services to theoretical physics, and especially for his discovery of the law of the photoelectric effect". The latter was pivotal in establishing quantum theory.
In 1914, having established a reputation, he accepted a position at the Prussian Academy of Sciences in Berlin. A life-long pacifist, he opposed World War I and when Adolf Hitler came to power in 1933, he rejected his German citizenship ( at the age of 54) and immigrated to the United States. In America he accepted a research position at the Institute for Advanced Study in Princeton, New Jersey. Although he was a pacifist, he was so horrified by the Nazis that he urged armament for the other European nations to resist Germany. When he became aware of the work Hahn, Strassmann and Meitner were doing with nuclear fission, he urged President Roosevelt to immediate action in atomic research.
March 14, 1891
Death of Ludwig Windthorst in Berlin, Germany. Windhorst was one of the founders of the Catholic Center Party. As leader of the party he led the struggle against Bismarck's "Kulturkampf".
March 14, 1899
Death of Ludwig Bamberger in Berlin, Germany. Bamberger was an economist with a specialization in currency problems. Working with Bismarck, he achieved the standardization of German coinage, the adoption of the gold standard and the founding of the Reichsbank.
March 14, 1937
On Passion Sunday the Papal Encyclical, "Mit brennender Sorge" is read at Catholic masses throughout Germany. The encyclical has been delivered by secrete courier since the postal service or any public agency could not be entrusted with it. The encyclical is critical of the Hitler government and its treatment of the Catholic Church in Germany. The printing offices in Germany which had printed the encyclical were closed and many of the workers in them imprisoned within the next days. The government ordered all copies of the document to be confiscated.
March 14, 1917
During WWI, the provisional government of the Russian Revolution issues Order Number 1, which deprives military officers of disciplinary authority and order collapses in the Russian military. The German WWI military halts all actions not wishing to arouse patriotism among Russian soldiers and possible renewal of order. War in the East will be over by November 26, soon after Lenin and Trotsky take power on November 7.
March 14, 1997
Death of Fred Zinnemann in London (born in Vienna, Austria). Zinnemann studied law in Vienna but then developed an interest in making movies. He studied film making in Paris and in 1929 immigrated to the United States. In Hollywood he became a successful director. His films include High Noon (1952), From here to Eternity (1953), Oklahoma (1955), A Man for all Seasons (1966), The Day of the Jackal (1973) and Five Days one Summer (1982).
March 14, 2002
The philosopher Hans-Georg Gadamer dies.




Back to Today in German History Calendar