March 9, 1009
Death of St. Bruno von Querfurt (970 – 1009) Bruno was educated at the cathedral school in Magdeburg. He later entered a monastery and took his vows in 999. He was sent as a missionary to Poland. In 1008 he sought to found a mission among the Prussians. He and his companions were killed by the resentful pagans there. He was soon revered as a martyr.
March 9, 1697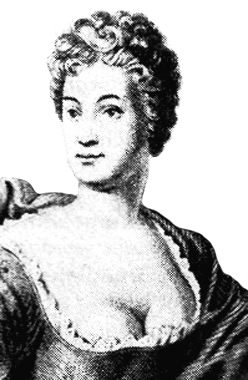 Birth of Caroline Neuber (1697-1760) (born Friederike Caroline Weissenborn) in Reichenbach, Germany. "Die Neuberin" as her close associate, the critic Johann Gottsched, called her, was largely responsible as an actress and a theater director of moving German theater from loose slapstick productions to serious performance of quality plays. She and her husband, Johann Neuber, formed their first theater company in 1727 in Leipzig. The early collaboration with Gottsched turned to a bitter feud in later years. At one point she referred to him from the stage as a "bat-eared censor". She is the model of the character Nelly in Goethe's Wilhelm Meister.
March 9, 1758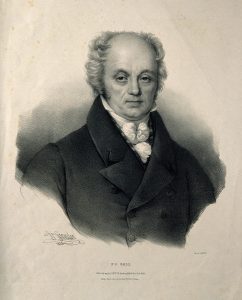 Birth of Franz Joseph Gall in Tiefenbronn, Germany. Gall concluded from his research that mental functions are located in given areas of the brain. This was considered contrary to religion at the time and laws were passed against his findings and he was forced to leave Austria, where he was working. History proved that he was correct in his conclusions. However he also concluded that one could determine personality and intelligence from examining the skull (phrenology). In the latter matter he was incorrect.
March 9, 1831
Death of Friedrich Klinger in Dorpat, Estonia (born in Frankfurt am Main, Germany). A dramatist (and later in life a general) Klinger gave the name to the Sturm und Drang movement in German literature with his play Der Wirrwarr, oder Sturm und Drang (1776). His play Die Zwillinge (1776) is also of historic significance as is his novel of 1791 Fausts Leben, Taten und Höllenfahrt.
March 9, 1845
Birth of Wilhelm Pfeffer in Grebenstein, Germany. Pfeffer was a pioneer in the study of osmotic pressure in plants and in the general physiology of plants. He was a professor of biology at the universities of Bonn, Basel, Tübingen and Leipzig. He died in Leipzig on January 31, 1920.
March 9, 1849
Birth of Josef Kohler in Offenburg, Germany. Kohler, a judge and, later, a professor of law at the University of Berlin, examined the purpose of law within the framework of the thought of Hegel. His most significant book was Lehrbuch der Rechtsphilosophie (1908). He also wrote a novel and poetry.
March 9, 1888
Death of Wilhelm Friedrich Ludwig in Berlin. Wilhelm had become the first Emperor of the German Empire in 1871. Wilhelm became the king of Prussia on January 2, 1861. He appointed Otto von Bismarck chancellor in 1862. He led the victorious Seven Week's War against Austria in 1866 and the war against France in 1870-71. Following the Franco-Prussian War on January 18, 1871 he became emperor of the new German Empire.
March 9, 1918
Death of Frank Wedekind in Munich, Germany. Wedekind was a dramatist in the transition period between Realism and Expressionism with a foretaste of the Theater of the Absurd. Noted dramas by Wedekind include Frühlings Erwachen, Erdgeist, and Die Büchse der Pandora. His Lulu dramas inspired Alban Berg's opera, Lulu.
March 9, 1988
Death of Kurt Georg Kiesinger in Tübingen, Germany. Kiesinger (CDU) was the chancellor of West Germany from 1966-1969. His period of office was shared with foreign minister Willy Brand (SPD) during the "Grand Coalition". In the next term Willy Brand was elected chancellor and the coalition with the CDU was ended.




Back to Today in German History Calendar