May 1
May 1, 178
Saint Boniface (Winfried) is named Archbishop of Mainz and Primate of Germany by Pope Zachary.
May 1, 1218
Birth of Rudolf I in Limburg-im-Breisgau, Germany. Rudolf was the first King of the Germans from the Habsburg dynasty. He was elected German king in Frankfurt am Main and crowned at Aachen on October 24, 1273. Pope Gregory X recognized the position only on the conditions that he would renounce any rights in Italy and lead a crusade.
May 1, 1591
Birth of Adam Schall von Bell in Cologne, Germany. Bell was a Jesuit missionary who traveled to China and became an advisor to the Chinese emperor.
May 1, 1786
Mozart's opera, "The Marriage of Figaro" has its first performance in Vienna.
May 1, 1825
Birth of Johann Jakob Balmer in Lausanne, Switzerland. Balmer developed the formula basic to the development of atomic theory and developed the field of atomic spectroscopy.
May 1, 1880
Birth of Albert Lasker (1880-1952) in Freiburg, Germany. After immigration to the U.S.A. he became an advertising executive and in effect founded the modern concept of advertising. He envisioned that the role of advertising is not only to inform but to sell actively.
May 1, 1844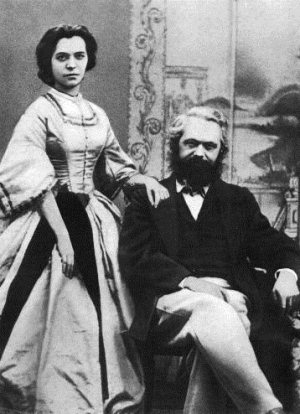 Jenny Marx (1844-1883) is born (first child of Karl Marx). Known as 'Jennychen' in the Marx circle, Jenny Longuet, Marx's eldest daughter, was a socialist activist. She wrote for the socialist press in France in the 1860s, most importantly in exposing British treatment of Fenian revolutionaries in Ireland.
She married Paris Commune veteran Charles Longuet on 2 October 1872. She was the mother of five boys and a daughter. Jenny Longuet died at Argenteuil near Paris on January 11, 1883, at the age of 38, probably from cancer of the bladder, a condition which had afflicted her for some time.
May 1, 1944
The world's first jet bomber, the Messerschmitt Me 262 "Sturmvogel" makes its first flight.
May 1, 1945
Death of Joseph Goebbels in Berlin, Germany. He and his wife poison their six children in the bunker in Berlin and then take their own lives. Goebbels was the propaganda minister of Adolf Hitler. He had gained his doctorate in Germanic philology from the University of Heidelberg in 1922. As propaganda minister he was in charge of the press, radio, theater, film literature, music and the fine arts.
May 1, 1970
Death of the poet, Paul Celan (Paul Antschel). Celan was a German-speaking Jew who was born in Eastern Europe, suffered in concentration camps during World War II, began writing poetry in Vienna after the war and spent the rest of his life in France, but continued to write poetry in German. Volumes of poetry by Celan include Der Sand aus den Urnen (1948), Mohn und Gedächtnis (1952) and Lichtzwang (1970).
May 1, 1987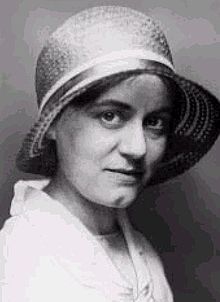 Beatification of Edith Stein (1891-1942) (Beata Teresia Benedicta a Cruce) by Pope John Paul II. Stein was born on October 12, 1891 in Breslau, Germany (now Poland). Stein converted from Judaism to Catholicism (1904) and became a Carmelite nun. She earned her doctorate at the University of Goettingen in philosophy. She subsequently taught at Goettingen. She became a teacher at the Institute for Pedagogy in Muenster in 1932, but had to resign shortly thereafter due to growing antisemitism in Germany. She entered the Carmelite convent in Cologne in 1934 taking the name, Teresa Benedicta of the Cross. In 1938 due to increasing Nazi pressure she moved to the convent in Echt, Holland. There she was arrested by the Gestapo and sent to the concentration camp at Auschwitz where she was murdered in a gas chamber. She was beatified in 1987. Works by Stein include "Endliches und ewiges Sein", and "Studie ueber Jonnes a Cruce: Kreuzeswissenschaft."
Back to Today in German History Calendar