May 19, 804
Death of Alcuin, intellectual in the court of Karl der Große (Charlemagne) in Aachen. Alcuin was born in about 730 in York in England. He was educated at and became the master of the cathedral school of York. In 781 he made the acquaintance of Karl der Große (Charlemagne) and joined him at Charlemagne's capital of Aachen as the master of the cathedral school. (Aachen was the capital of Charlemagne's Empire [later to be called the Holy Roman Empire or the German Empire] Aachen is in the far western part of Germany today.) He was a very religious man and may have been a priest, but his status is not clear. The liberal arts school he established for Karl became the intellectual center of Europe. In common effort with Karl, Alcuin established lower schools throughout Karl's empire and established curricula for those schools. He was equally active in religious affairs and with Karl's authority organized the church in Karl's growing Franconian empire. In 796 Alcuin withdrew from public life and was made the abbot of the monastery in Tours (in modern day France). Alcuin died on May 19, 804. His day of remembrance in both the Catholic and Lutheran churches in Germany is May 19. (Karl established his empire and was crowned emperor by the Pope, Leo III in 800. Thus, Alcuin was retired from Karl's service before the formal establishment of the empire. Alcuin was succeeded by Einhard, who continued his work in the early 9th century.)
May 19, 1762
Birth of the German philosopher Johann Gottlieb Fichte in Rammenau, Germany.

May 19, 1848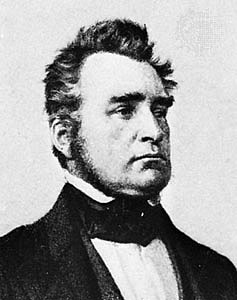 Heinrich Freiherr von Gagern (1799-1880) is elected president of the national assembly in Frankfurt (the first German attempt at parliamentary democracy). He secured the election of the Austrian archduke John as German regent and attempted to persuade Prussia to play the chief role in a unified Germany without eliminating Austria altogether. His proposal to offer the imperial crown to Frederick William IV of Prussia was finally accepted by the assembly, but the Prussian monarch's refusal destroyed his hopes. Gagern left Frankfurt when Archduke John dissolved the assembly on May 10, 1849. Retiring from politics, he served in the German Army against Denmark (1850). Later, he turned to Austria and by 1862 had come to favour the Austria-oriented Grossdeutsch (Greater German) solution. From 1864 to 1872 he served as Hessian minister to Vienna. When Gagern died in 1880, he was a forgotten man.
May 19, 1881
Death of Harry Graf von Arnim in Nice, France. As Prussian envoy to the Holy See in 1864 he actively supported the bishops opposed to the declaration of papal infallibility. Later a controversy arose in which he was accused of stealing official documents, was arrested and sent to prison. When he was released he fled to France. His case gave rise to the "Arnim Paragraph", a law making disclosure of official documents a criminal offense.
May 19, 1914
Birth of Max Ferdinand Perutz in Vienna, Austria. Perutz was the biochemist who received the Nobel Prize for Chemistry in 1962 for his X-ray diffraction analysis of the structure of hemoglobin.
May 19, 1928
Death of the philosopher Max Scheler in Frankfurt, Germany. Scheler was interested in social and ethical philosophy. He is noted for phenomenological philosophy. He served as professor of philosophy and sociology at the University of Cologne.
May 19, 1962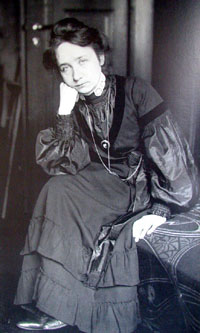 Death of Gabriele Münter (1877-1962) in Murnau, Germany. She was a German painter connected with the artist group "Der Blaue Reiter". She studied with and became a close friend of, Wassily Kandinsky. Kandinsky's and Münter's professional and personal relationship lasted for about twelve years. During this time their relationship affected Münter's art. Kandinsky was married for fifteen years while he was in a relationship with Münter. They spent a great deal of time together traveling through Europe including Holland, Italy, and France, as well as North Africa. It was during this time that they met Rousseau and Matisse. Münter and Kandinsky fell in love with the village of Murnau in southern Bavaria. Later on, Münter bought a house in this city and spent much of her life there. Münter and Kandinsky helped establish the Munich-based avant-garde group called the New Artists' Association (Neue Künstlervereinigung). She contributed to a number of the most significant avant-garde exhibitions in Germany up till World War I.
Back to Today in German History Calendar