May 2, 1507
Martin Luther is consecrated a priest at the Augustinian monastery in Erfurt, Germany.
May 2, 1601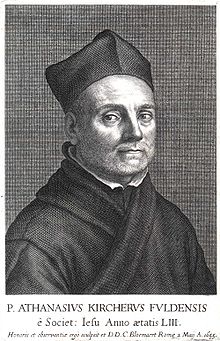 Birth of Athanasius Kircher (1601-1680) in Geisa, Germany. Kircher studied in Fulda, Paderborn, Cologne and Koblenz. In 1628 he was ordained a Jesuit priest in Mainz. In 1634 he moved to Rome and took up the task of assembling and organizing information sent by Jesuit missionaries from all parts of the world.
May 2, 1764
Birth of Friedrich Gentz in Breslau, Germany (now in Poland). Gentz studied in Königsberg with the philosopher Immanuel Kant. When the French Revolution took place he greeted it as an awakening of the human spirit, but he soon recognized the shortcomings and spent the rest of his life in opposition. In 1803 he took up residence in Vienna where he became a friend of the foreign minister, Prinz von Metternich. Under Metternich he became an official at the Viennese court and a personal advisor to Metternich.
May 2, 1772
Birth of Novalis (Friedrich von Hardenberg) in Oberwiederstedt, Germany. Novalis was one of the leading poets and theorists of the Romantic movement in German literature. While a student at the University of Jena he met Friedrich Schiller. Later in Leipzig he became friends with Friedrich von Schlegel. He completed his university work in 1793 at the University of Wittenberg. Novalis' works include Hymnen an die Nacht (1800), Heinrich von Ofterdingen (1802) in which the blue flower (die blaue Blume) becomes a central symbol for the Romantics, and Die Christenheit oder Europa (1799) in which he seeks a new universal Christian church.
May 2, 1866
Birth of Paul Kretschmer in Berlin, Germany. Kretschmer was a linguist who demonstrated that the early Indo-European languages were influenced by non-Indo-European languages. He was s professor of linguistics at the Universities of Marburg and Vienna.
May 2, 1879
Friedrich Nietzsche resigns from the University of Basel.
May 2, 1886
Birth of Gottfried Benn in Mansfeld, Germany. Benn was an Expressionist poet. Benn's rather dismal view of the world was no doubt colored by his occupation. He was a physician specialized in venereal diseases. Major collections of Benn's works include Morgue (1912), Fleisch (1917), Statische Gedichte (1948). He named his autobiography Doppelleben (1950). During the Nazi years he was forbidden to publish.
May 2, 1892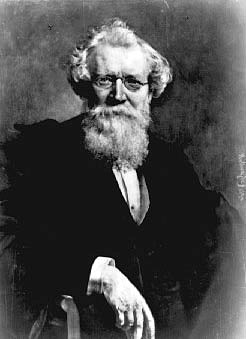 Death of August Wilhelm von Hofmann (1818-1892) in Berlin, Germany. The chemist, Hofmann studied under Justus von Liebig at the University of Giessen and completed his doctorate in 1841. He was the director of the Royal College of Chemistry in London from 1845-1864. In 1864 he became a professor at the University of Bonn and in 1865 at the University of Berlin. He produced 300 scientific papers. His work with aniline had the greatest impact, for that work made possible the aniline-dye industry in which Germany became a world leader. He discovered formaldehyde, hydrazobenzene, the isonitriles, and, with Auguste Cahours, allyl alcohol. Von Hofmann was a cofounder of the German Chemical Society and was its president 14 times.
May 2, 1912
Birth of Axel Springer in Altona, Germany. Springer was the founder of the Axel Springer Verlag, one of the largest publishing companies in Europe. He started with his father's paper, the Altonaer Nachrichten. Important publications in the Springer group include, Die Welt, Bild-Zeitung, Hamburger Abendblatt, Berliner Morgenpost, Ullstein Publishing and Propyläen Publishing. In 1960 Springer moved his publishing headquarters from Hamburg to Berlin in a protest over the division of Berlin.
May 2, 1945
Berlin capitulates to Soviet troops in World War II.
May 2, 1945
Karl Dönitz takes control of the German government after Hitler's death.
May 2, 1969
Death of Franz von Papen in Obersasbach, Germany. Von Papen was a member of the Catholic Center Party in the parliament. Through a series of calculated political moves, von Papen was appointed Chancellor in 1932. In an attempt to appease the Nazi party in parliament, he lifted the ban on the SA. After only a few months he was outmaneuvered and replaced as chancellor by Kurt von Schleicher. Although he had been opposed to Hitler, von Papen made a deal with him on January 4, 1933 calculated to serve his own political interests. Von Papen then urged the President, von Hindenburg, to appoint Hitler Chancellor with himself as vice chancellor. Later he became ambassador to Austria, where he helped arrange the annexation and ambassador to Turkey where his mission was to keep Turkey out of an alliance with Germany's enemies.
May 2, 1990
Agreement is reached between East and West Germany on the exchange of marks as the East takes on the D-mark as its currency. The currencies are to be exchanged 1:1 with some variations for given categories of exchange. At a maximum 6,000 east marks may be exchanged at the 1:1 rate.
Back to Today in German History Calendar