May 26, 1799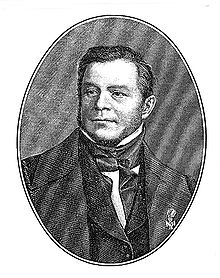 Birth of August Kopisch in Breslau, Germany (now in Poland). Kopisch was a painter and poet. Two of his books of poetry are Gedichte (1836) and Allerlei Geister (1848). Allerlei Geister was based on legends and fairy tales.
Kopisch studied painting and archaeology in Italy (1823–28) and in 1826 rediscovered, with Ernst Fries, the Blue Grotto at Capri, which, though known in Roman times, had been forgotten for centuries. Upon his return to Germany he received a pension from the Prussian crown prince. An injury to his hand ended his career as a painter, and in 1847 he was given a court position at Potsdam, where he wrote a history of the royal gardens (1854). He also translated parts of Dante's Divine Comedy.
May 26, 1814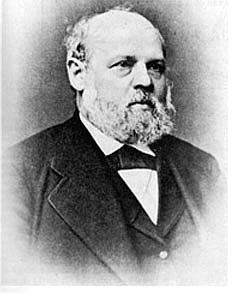 Birth of Heinrich Geissler (1814-1879) in Igelshieb, Germany. Geissler was a glassblower who had a shop in Bonn where he made scientific instruments. The Geissler pump and the Geissler tube are named for him.

May 26, 1828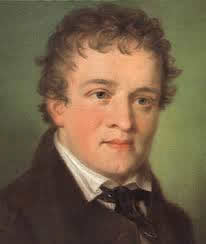 Kasper Hauser is brought to the authorities in Nürnberg. In 1828 a confused young man (Hauser) was brought to the authorities in Nürnberg. He had in his possession a letter stating his date of birth and the indication that his father had died. His situation evoked much interest and speculation as to his origins. His case led to a poem about him by Paul Verlaine, novels by Jacob Wassermann, Sophie Hoechstetter and Otto Flake, a play by Erich Ebermayer and a film by Werner Herzog.
May 26, 1831
Death of Georg Hermes in Bonn, Germany. Hermes was a Roman Catholic theologian who was a follower of the systems of Immanuel Kant. He originated a theological system called Hermesianism by which he sought to prove the rational necessity of Christianity Einleitung in die christkatholische Theologie (1819-29). He was ordained a priest in 1799 and became a professor of dogmatic theology at the Universities of Münster and Bonn. After his death he fell out of favor and his writings were listed on the Roman Catholic Index of Forbidden books. Pope Gregory XVI and the first Vatican Council condemned his theology.
May 26, 1876
Friedrich Nietzsche is given a year leave from the University of Basel.
May 26, 1976
Death of Martin Heidegger in Messkirch, Germany. The philosopher, Heidegger is generally designated an existentialist and phenomenologist. The thought of Soeren Kierkegaard, Friedrich Nietzsche and Edmund Husserl played a role in the development of his own philosophy. Important works by Heidegger are Sein und Zeit, Zur Seinsfrage, Nietzsche and Was ist Metaphysik? Heidegger taught at the University of Freiburg. He joined the Nazi party, as was expected of all in public life. The allies investigated his Nazi activities but did not find the matter significant.
Back to Today in German History Calendar