November 14, 1716
Death of Gottfried Leibniz in Hannover. Leibniz is the inventor of differential and integral calculus. Newton also invented calculus independently at about the same time but Leibniz was the first one to publish.
November 14, 1719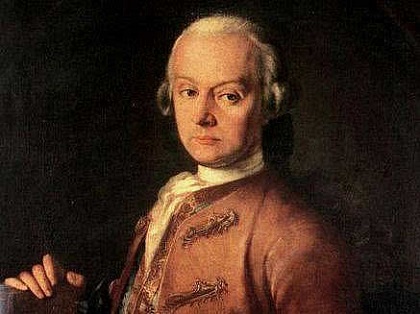 Birth of Leopold Mozart in Augsburg, Germany. He was the father of Wolfgang Amadeus Mozart. Leopold Mozart was a violinist at the court of the Archbishop of Salzburg and court composer. Clearly he did all in his power to develop the talent of his son, Wolfgang. (He has often been criticized, in fact for exploitation.)
November 14, 1778
Birth of Johann Hummel in Pressburg, Austrian Empire (now in Slovakia). The composer, Hummel studied in Vienna with Mozart. During his studies he lived for two years in Mozart's house. He also took further instruction later with Haydn and Salieri. He composed 9 operas, 3 masses, piano works and chamber music.
November 14, 1802
Birth of August Pott in Nettelrede, Germany. Pott was a linguist who pioneered Indo-European historical linguistics and etymological studies. Pott was a professor of linguistics at the University of Halle.
November 14, 1825
Death of Jean Paul in Bayreuth, Germany. Jean Paul was the pseudonym of Johann Paul Friedrich Richter, a novelist of the 18th-19th Century. Noted works by Jean Paul include Auswahl aus des Teufels Papieren (1783), Blumen- Frucht- und Dornenstücke (1796), Leben des Quintus Fixlein (1796), Titan (1800-1803) and Des Feldpredigers Schmelzle Reise nach Flätz (1809).
November 14, 1831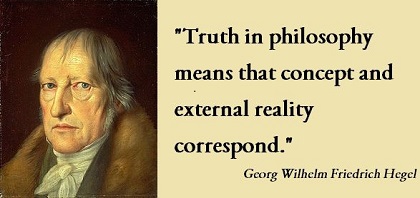 Death of Friedrich Hegel in Berlin. Hegel died during a cholera epidemic. The monumental philosopher had taught at the Universities of Jena and Heidelberg before his final appointment at the University of Berlin from 1818-1831. Hegel developed a theory of dialectic in which phases of history must of necessity follow upon one another. From a thesis there develops an antagonistic antithesis. The necessary conflict between them results finally in synthesis. The most radical of his followers was Karl Marx who developed the system into an economic theory.
November 14, 1874
Birth of Johann Schober in Perg, Austria. Schober served Austria as the president of police and twice as Austrian chancellor. (1921-1922 and 1929-1930). Schober was a supporter of unification with Germany.
November 14, 1964
Death of Heinrich von Brentano in Darmstadt, Germany. Brentano was West German foreign minister in 1955-1961.
November 14, 1990
Germany and Poland sign an agreement establishing the German-Polish border at the existing points. (There had never been West German agreement to the border along the line of the Oder and Neisse Rivers).