September 7, 1714
The Treaty of Baden is signed by which the French control Alsace and Austria – the east bank of the Rhine.
September 7, 1816
Birth of Ferdinand von Hebra in Brünn, Austria. He took up the practice of medicine in Vienna and there founded the New Vienna school of dermatology, which set the standard for modern dermatology.
September 7, 1940
The "Battle of Britain". The air attacks on London, which will continue for 57 consecutive nights, begin. The Battle of Britain was the first major campaign to be fought entirely by air forces, and was also the largest and most sustained aerial bombing campaign to that date.
September 7, 1943
Italy surrenders to the Allied forces in WWII.
September 7, 1944
The first V-2 rocket hits Britain in WWII.
September 7, 1949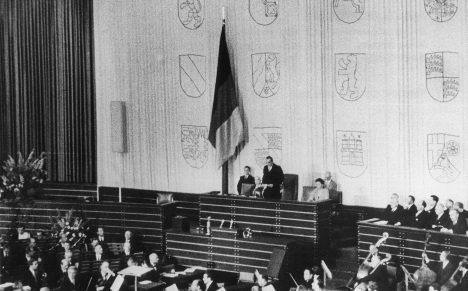 The first German Bundestag assembles in Bonn. After decades of dictatorship, war and confusion, this assembly marked a new start for West Germany – in a brand new capital city. In 1949, two separate German states emerged out of the rubble that Germany was in between 1945 and 1949. First came the German Democratic Republic (GDR). The Allies controlling West Germany needed to respond – and on May 23rd, the Federal Republic of Germany was born. And it needed a capital city.
The choice boiled down to two cities. One was Frankfurt, the other Bonn. On May 10th 1949, the choice came down to a vote by the Parliamentary Council. This stirred up heated debate – the  Social Democratic Party of Germany (SPD) preferred Frankfurt as the new capital, while the Christian Democratic Union and Christian Social Union (CDU/CSU) favored Bonn. In the end, Bonn won by 33 votes to 29.
The newly-formed Bundestag met in the former gymnasium of a teacher training college. SPD MP Paul Löbe opened the session. At 73 years old, Löbe was the oldest serving MP in this first term of the Bonn parliament.
September 7-11, 1987
Erich Honecker visits West Germany.