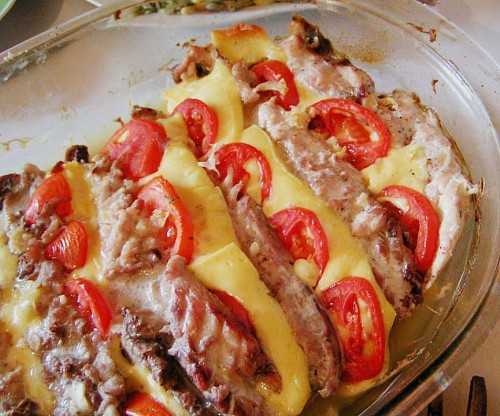 Ingredients:
8 tomatoes, sliced
salt
4 fish fillets (approx. 800 g)
1/3 cup tomato paste or thick tomato sauce
1/3 cup dry white wine or broth
2 tbsp parsley, chopped
1/3 cup finely chopped onion
1/3 cup breadcrumbs
1/3 cup grated Emmentaler cheese
2 tbsp butter

Preparation:
Preheat oven to 400° F (~200°C).
Butter a large shallow baking dish.
Arrange tomato slices and fish alternately in baking dish. Sprinkle with salt.
In a small bowl, mix tomato paste, wine, parsley, and onion. Season to taste with salt.
Pour over fish and tomatoes.
Sprinkle breadcrumbs and cheese on top. Dot with butter.
Bake, uncovered, for 25 minutes or until tender.