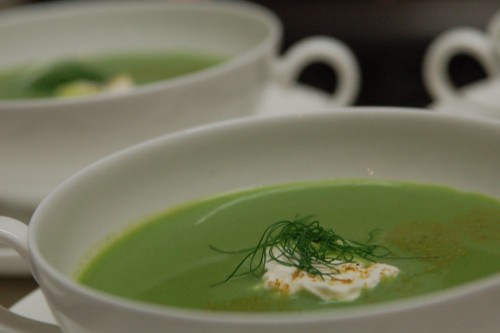 Gründonnerstag is the Thursday before Easter, known as Maundy Thursday. It means "green Thursday", although it is thought that the word "grün" is actually derived from the word "greinen" meaning to weep. However, despite there being nothing traditionally green about "green Thursday", Germans often eat green-colored foods such as herb soups.
Ingredients:
1 tablespoon butter
1 small onion, finely chopped
1 tablespoon flour
2 cups/500 ml vegetable broth
1 cup/250 ml cream (or two small potatoes)
finely cut fresh herbs – traditionally it's a combination of leek, watercress, chives, sorrel, parsley, spinach, dill, and dandelion greens (however arugula, kale, celery greens, tarragon, or chervil could also be used)
salt and pepper
croutons, or cubed zwieback
Method:
Tips: If harvesting herbs from your garden, pick them early in the morning. If using potatoes instead of cream, boil them till fork tender.
Wash herbs thoroughly, drain, and chop coarsely. You should have about 2 handfuls of chopped herbs per person.
Melt the butter in a pan, and sauté the onions till translucent. Add flour and stir; cook briefly. Pour in broth or stock, stir and bring to a boil. Simmer for 3 minutes.
Add cream or cooked potatoes plus the chopped herbs. Briefly bring to a boil, and season with salt and pepper.
Puree with a hand blender, and garnish with some cream and a pinch of chopped greens before serving.