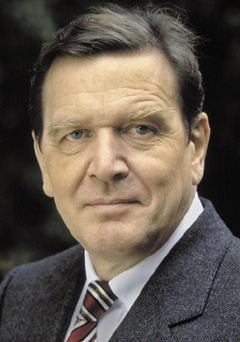 On September 27, 1998, Gerhard Schroeder, a "bluff and combative" legislator from Lower Saxony, was chosen a new chancellor of Germany. Mass media consider him to be a "breath of fresh air" after 16 years of Helmut Kohl's governing. This was a big news for the whole political world. The event hit the headlines of the leading newspapers and magazines. Most of them, having electronic versions of their issues, put the articles dedicated to Schroeder's success on the Internet.
The CNN Interactive has fully reflected the new German chancellor elections.
Who is this man, who put the Kohl era to an end, whom Germans have chosen their new chancellor, who will be the first to govern from the new capital of the unified Germany? For many people Gerhard Schroeder remains an enigma. The first thing to do is to have a look at Schroeder's curriculum vitae. The general outline of his political convictions and some personal characteristics including his hint of charisma can be found on the Gerhard Schroeder: Upstart at the chancellor's gate page.
The turning point in Germany's political life became incoming center-left government sign coalition pact. The chancellor-elect has formed a government of his own, and what it makes in coalition with Greens is seen in the line-up of Germany's new cabinet, which, however, has suffered a blow on Monday, Oct 19, when Schroeder's choice for economics minister refused the job. New German Finance Minister Oskar Lafontaine, however, is a powerful and experienced politician, and makes a good match to the chancellor himself.
On October 27 Gerhard Schroeder was formally elected as the country's new chancellor, and this day Germany set to crown him.