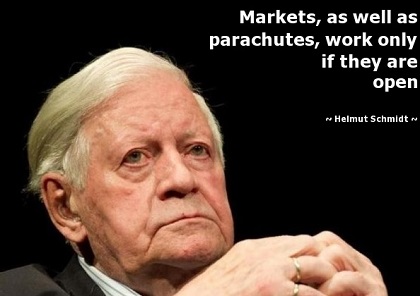 Following Brandt's resignation in May 1974, the SPD-FDP coalition partners unanimously agreed that Minister of Finance Helmut Schmidt should head the new government. At fifty-five, Helmut Schmidt became the youngest chancellor of the FRG. Born in Hamburg in 1918, he served as an officer in World War II. After the war, he joined the SPD and served in Hamburg's municipal government, where he acquired a national reputation as a top-notch manager because of his competence in dealing with a severe flood in 1962. He was the SPD faction leader in the Bundestag and minister of defense in the first SPD-FDP cabinet. Schmidt gradually became recognized at home and abroad as a pragmatic politician and an expert in economic and defense matters. His first cabinet included the FDP's Hans-Dietrich Genscher as minister of foreign affairs. Genscher replaced Walter Scheel, who had been elected federal president in 1974.
Schmidt was confronted with a number of serious problems. The economic turbulence caused by the oil crisis of 1973 had affected the FRG, and a ban on the use of automobiles on Sundays had been introduced to preserve scarce fuel reserves. Perhaps as a result of the crisis, Germans began to recognize limitations to economic growth and simultaneously to become aware of ecological dangers to the environment inherent in their lifestyle. As a result, environmental movements sprang up throughout the FRG.
Worries about the environment and about long-term economic growth became widespread in the next few years, and the almost limitless optimism of the postwar period began to give way to a mood of uncertainty about the future. Unemployment was also on the rise, and labor unions, traditionally reliable allies of the SPD, began to depart from their position of solidarity with the SPD-FDP government. In this increasingly difficult economic and political environment, Schmidt tried to steer a steady course, one often too conservative for his party and from which necessary support was at times lacking.
Related articles:
The Social Democratic-Free Democratic Coalition, 1969-82 and Willy Brandt
Ostpolitik
The Student Movement and Terrorism in Germany
The Green Movement (Greens) in Germany