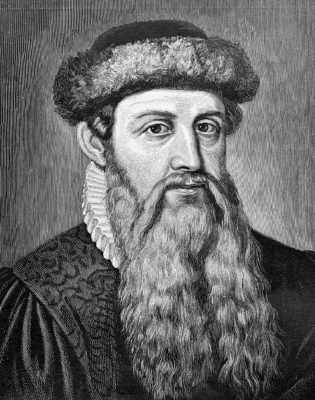 Johannes Gensfleisch zur Laden zum Gutenberg (born in Mainz around 1400 – died on February 3, 1468) was a German blacksmith, goldsmith, printer, and publisher who introduced printing to Europe with the printing press. His introduction of mechanical movable type printing to Europe started the Printing Revolution and is regarded as a milestone of the second millennium, ushering in the modern period of human history. It played a key role in the development of the Renaissance, Reformation, the Age of Enlightenment, and the scientific revolution, and laid the material basis for the modern knowledge-based economy and the spread of learning to the masses.
If not for Johannes Gutenberg, the world might not have had access to mass-printed books and for that particular reason it is not a surprise that Gutenberg is regarded as one of the most important contributors in the history of the world. Gutenberg's invention of printing is without doubt one of the biggest in history simply because of the fact that it allowed people to share the knowledge that had been at the hands of a select few for hundreds of years. Johannes Gutenberg was a visionary of rare quality but other than the fact that he invented movable type printing, he also laid the foundation for printing the Bible which was certainly one of his biggest achievements. Other than inventing modern printing technology at the time he was also the one who invented the type of ink that would make printing feasible and make sure that the books would be readable for a long time. The printing technique that he introduced was far more advanced that the ones perfected by the ancient Chinese.
Gutenberg had claimed that his idea of movable type printing had come to him in a moment of light or what he called a 'ray of light'. It was in the year 1440, while he was in Strasbourg, that Gutenberg first introduced the then revolutionary concept of printing to his partners. In 1450, Gutenberg had successfully opened up his printing press and it is said the very first item that was printed in order to test the effectiveness of the press was a poem in German, the precise name of which is unknown. Later on Gutenberg was able to take out a substantial loan from the moneylender Johann Fust for his workshop.
Gutenberg opened up his workshop in 1452 and it was in that workshop that he first decided to print the Bible, which he was sure would be a profitable venture. However, he had another press in which he published books like textbooks in Latin or Church indulgences.
It was in 1455 that Gutenberg printed his first copy of the Bible, which later came to be known as Gutenberg's Bible. Initially he had printed 180 copies, with 42 lines on each page. Copies sold for 30 florins each, which was roughly equal to three years' wages for an average clerk. Nonetheless, it was significantly cheaper than a manuscript Bible that could take a single scribe over a year to prepare. After printing, some copies were rubricated or hand-illuminated in the same elegant way as manuscript Bibles from the same period.
48 substantially complete copies are known to survive, including two at the British Library that can be viewed and compared online. The text lacks modern features such as pagination, indentations, and paragraph breaks.
In 1456, Gutenberg's main financial backer Johann Fust sued him for misappropriation of funds and in an unfortunate turn of events, Gutenberg lost the court battle. He had run out of money due to the Bible project and in addition to that the printing workshop was turned over to Johann Fust.
Although Gutenberg's invention of the movable printing technology was completely ignored by Johann Fust who took over his printing press; in 1465 he was honored with the title Hofmann which literally meant Gentleman of the Court. Johannes Gutenberg died at the age of 70 on February 3, 1468. The reason of his death his unknown and he was buried at a church in his home town of Mainz.