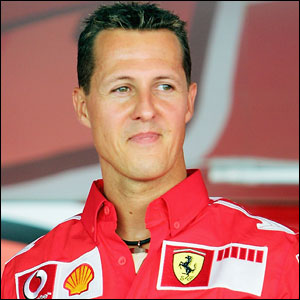 Michael Schumacher is a seven-time World Champion F1 driver and tops the list of most Grand Prix wins in the history of Formula One. His career statistics – including an astonishing 91 wins – are so incredible they will probably never be beaten.
Early years
Schumacher was born on January 3, 1969 to Rolf and Elisabeth Schumacher. The family became involved with karting. Michael, only four at the time, was given a kart powered by an old lawn-mower engine by his father. A World Champion's career was launched from this humble beginning.
Schumacher's talents were noted by his parents, but they did not have the financial means to support them. Instead, they had to rely upon the generosity and sponsorship of a few affluent people who also saw the potential of their son.
Schumacher has won numerous German and European kart championships since 1984, including the Formula Koenig Series. By 1987 he was the German and European kart champion, at which point he withdrew from school and began working as a mechanic.
Formula One career. Debut.
Schumacher is credited with popularising Formula One in Germany, where it was considered a fringe sport. In 2006, three of the top ten drivers were German, more than any other nationality and more than has ever been present in Formula One history.
Schumacher made his Formula One debut with the Jordan-Ford team at the 1991 Belgian Grand Prix as a replacement for the imprisoned Bertrand Gachot. At that time Schumacher was still a contracted Mercedes driver. He impressed the paddock by qualifying seventh in his first competition in a Formula One car, matching the team's season-best grid position, and out-qualifying his team mates.
After his debut, he was signed by Benetton-Ford for the following race. Schumacher became known as an up-and-coming driver in F1 as he claimed his maiden victory in the 1992 Belgian Grand Prix at the Spa-Francorchamps circuit, which would become his favourite track. Schumacher won his first Drivers' World Championship in 1994.
Ferrari years
In 1996, Schumacher signed with Ferrari, then considered technologically and organisationally inferior to front running teams such as Benetton and Williams. Ferrari had not won the Drivers' Championship since 1979. The poor performance of the Ferrari pit crews was considered a running joke. Schumacher is often credited along with Ross Brawn, Rory Byrne and Jean Todt with turning this once struggling team into the most successful team in Formula One history. The transformation of the Ferrari team was Schumacher's greatest feat.
Awards
Michael Schumacher won the coveted Laureus World Sportsman of the Year award in 2002 and 2004 for his outstanding performance in the 2001 and 2003 seasons respectively. In its 7-year history, no-one has been nominated more times than Schumacher, who also received nominations for the 2001, 2003 and 2005 awards.
Family and off-track life
Schumacher married Corinna Betsch in August 1995. They have two children, Gina-Maria (born in 1997) and Mick (born in 1999). The family, as of 2006, lives in Gland, Switzerland, near Lake Geneva. Schumacher has always been very protective of his private life and is known to dislike the celebrity spotlight, preferring a simple life.
Schumacher is the world's first billionaire athlete. His annual salary is reported to be around $80 million in 2004. In the 2005 Forbes Celebrity 100, the list of "The World's Most Powerful Celebrities", he was ranked 17th. A big share of his income comes from advertising.
Schumacher had to learn how to deal with the press professionally, attend courses in rhetoric and conduct interviews in English.
Retirement
While Schumacher was on the podium after winning the 2006 Italian Grand Prix, Ferrari issued a press release stating that he would retire from racing at the end of the 2006 season. Schumacher confirmed his retirement in the post-race press conference. The press release also stated that Schumacher would continue working for Ferrari.
Schumacher went down in history as one of the greatest drivers in the history of the sport.
Injury
In December 2013, Schumacher suffered a serious head injury while skiing. He was airlifted to a hospital and placed in a medically induced coma, having suffered a traumatic brain injury. He was in the coma from 29 December 2013 until 16 June 2014. He left the hospital in Grenoble for further rehabilitation at the University Hospital (CHUV) in Lausanne. On 9 September 2014, Schumacher was brought back to his home for further rehabilitation. In November 2014, Schumacher was reported to be paralyzed and wheelchair-bound as a result of the accident.
December 29, 2018, marked five years since the most successful Formula One driver in history fell and hit his head while skiing in Meribel, in the French Alps.
But Schumacher's wife Corinna, whom he married in 1995, has insisted on secrecy over his condition, a request that has been faithfully observed by all around them. Friends don't talk. If they do, they are no longer friends.
On January 2, 2019 though, Michael Schumacher's family made a rare statement for his 50th birthday.
They said "we are doing everything humanly possible to help him", ahead of the racing legend's 50th birthday.
In a post on Facebook, they wrote: "Michael can be proud of what he has achieved, and so are we! That's why we remember his successes with the Michael Schumacher Private Collection exhibition in Cologne, by publishing memories in social media and by continuing his charitable work through the Keep Fighting Foundation. We want to remember and celebrate his victories, his records and his jubilation.
"You can be sure that he is in the very best of hands and that we are doing everything humanly possible to help him. Please understand if we are following Michael's wishes and keeping such a sensitive subject as health, as it has always been, in privacy. At the same time we say thank you very much for your friendship and wish you a healthy and happy year 2019."