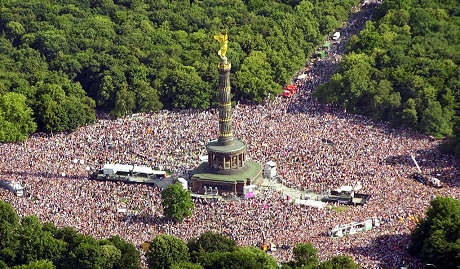 Loveparade'2001 will be different from the previous eleven Parades because it won't take place on the second Saturday of July as it used to be. According to the local authorities' statement made in the beginning of April, July 14 has already been reserved by the Greens since September'2000 for a meeting.
There is an opinion that the Greens' decision was not random. To the contrary, thus they protest against the Parade which, according to their words, causes great damage to the green plantations of Tiergarten and the whole route of Loveparade. Besides, a representative of Berlin's authorities stated that all other Saturdays of July had already been reserved for other events. At the same time the mayor of Berlin expressed hope that Loveparade — the largest techno party in the world giving Berlin the image of a young and dynamic megapolis and moreover, bringing millions of DM's into its budget — will take place despite everything, and kindly offered to choose some other month.
Yet, the organizers reported it was out of question because a number of guest performers take part in the festival, their touring plans are already made and hotels booked. Besides, thousands of people plan attending the Parade during their vacations, and tourist agencies actively sell tours to Berlin. How the Berlin authorities can turn their heads on the Loveparade is beyond comprehension. Loveparade is the worldwide icon of Berlin. There has been no other event since WWII that has brought more attention to the city of Berlin than Loveparade. Loveparade is not only one of Berlin's most valuable cultural events, it is also an event that provides jobs and generates millions in taxes for the city and people of Berlin, and throughout Germany. The economic impact of Loveparade is plain huge, considering the 1.5 million people who travel to Loveparade, not to mention airlines, trains, buses, car rentals, hotels, restaurants and stores. And the effect is not just in Berlin but cities throughout Germany and Europe as a whole.
Attention! Loveparade'2001 will take place on Saturday, July 21, in Berlin, with the motto "Join the Love Republic." It will traditionally begin at 2pm at Ernst-Reuter-Platz and at the Brandendurger Tor (Brandenburg Gate). Some 50 trucks and about 250 DJs will deliver the sounds from two processions. Each procession will proceed along towards the Siegessaeule (Victory Column) where they will cross each other and continue towards their opposite starting points. After turning around at these points, the processions will then return to and join together at the Siegessaeule where the big rally begins around 7pm. Then Dr. Motte will present his greetings and speech before some of the biggest DJs from the international techno scene transform this spot into the biggest dance floor in the world.
Related articles:
Love at First …Site?
Love Republic Dos and Don'ts
St. Valentine's Day