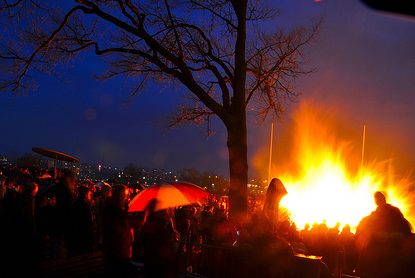 In Germany, Walpurgisnacht, the night from 30 April to 1 May, is the night when witches are reputed to hold a large celebration on the Brocken and await the arrival of spring.
Walpurgis Night (in German folklore) the night of 30 April (May Day's eve), when witches meet on the Brocken mountain and hold revels with their gods…"

Brocken is the highest of the Harz Mountains of north central Germany. It is noted for the phenomenon of the Brocken spectre and for witches' revels which reputedly took place there on Walpurgis night.

The Brocken Spectre is a magnified shadow of an observer, typically surrounded by rainbow-like bands, thrown onto a bank of cloud in high mountain areas when the sun is low. The phenomenon was first reported on the Brocken.
—Oxford Phrase & Fable.
A scene in Goethe's Faust Part One is called "Walpurgisnacht," and one in Faust Part Two is called "Classical Walpurgisnacht." The last chapter of book five in Thomas Mann's The Magic Mountain is also called "Walpurgisnacht." In Edward Albee's 1962 play Who's Afraid of Virginia Woolf?, Act Two is entitled "Walpurgisnacht."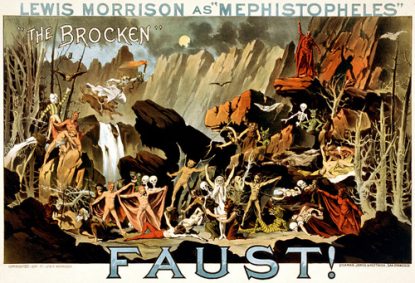 From Bram Stoker's short story, Dracula's Guest, an Englishman (whose name is never mentioned) is on a visit to Munich before leaving for Transylvania. It is Walpurgis Night, and in spite of the hotelier's warning not to be late coming back, the young man later leaves his carriage and wanders toward the direction of an abandoned "unholy" village. As the carriage departs with the frightened and superstitious driver, a tall and thin stranger scares the horses at the crest of a hill.
In some parts of northern coastal regions of Germany, the custom of lighting huge fires is still kept alive to celebrate the coming of May, while most parts of Germany have a derived Christianized custom around Easter called "Easter fires" (Osterfeuer).
In rural parts of southern Germany, it is part of popular youth culture to play pranks such as tampering with neighbors' gardens, hiding possessions, or spraying graffiti on private property.
In Berlin, traditional leftist May Day riots usually start at Walpurgis Night in the Mauerpark in Prenzlauer Berg. There is a similar tradition in the Schanzenviertel district of Hamburg, though in both cases, the situation has significantly calmed down in the past few years.