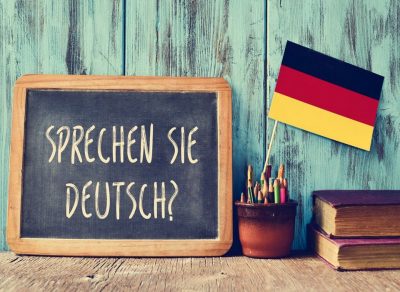 People are often a little afraid of getting into awkward situations where they have no clue how to express what they want to say. So, by learning how to express things such as your language level or how to ask for clarification and help with understanding or explaining, you can keep the conversation flowing and you open yourself up to a whole new dimension of language learning.
Armed with these phrases, every native speaker you encounter is a potential tutor.
ENGLISH

I only speak a little German.

GERMAN

Ich spreche nur ein wenig Deutsch.

I am learning German, but I am only a beginner.
Ich lerne Deutsch, aber ich bin noch ein Anfänger.
I have been learning German for 2 days / 2 weeks / 2 months / 1 year / 2 years.
Ich lerne seit 2 Tagen / 2 Wochen / 2 Monaten / 1 Jahr / 2 Jahren Deutsch.
Will you correct me please?
Könnten Sie mich bitte korrigieren?
What does ___ mean?
Was bedeutet ___?
What does that mean?
Was bedeutet das?
Can you explain in German/English to me?
Können Sie das auf Deutsch/Englisch für mich erklären?
What does that mean in this context?
Was bedeutet das in diesem Zusammenhang?
What is the German word for ___?
Was ist das deutsche Wort für ___?
Is this/that correct?
Ist das korrekt?
Am I wrong?
Liege ich falsch?
Am I correct?
Liege ich richtig?
Do you understand?
Verstehen Sie?
I do not understand
Ich verstehe nicht
I want to improve my level in German
Ich möchte mein Sprachniveau in Deutsch verbessern
I need to practice German
Ich brauche Übung in Deutsch
 
Do you mind if we speak in German?
Stört es Sie, wenn wir Deutsch sprechen?
Can you please speak in German? it helps me to learn.
Können Sie bitte Deutsch sprechen? das hilft mir beim Lernen.
How do you say '___' in German?
Wie sagt man '___' auf Deutsch?
I struggle with spelling / reading / writing / listening / pronunciation.
Ich habe Schwierigkeiten mit der korrekten Rechtschreibung / mit der korrekten Aussprache / damit, zu lesen / zu schreiben / das Gehörte zu verstehen.
Can you please repeat? I did not understand.
Können Sie das bitte wiederholen? Ich habe es nicht verstanden.
I don't speak German fluently.
Ich spreche Deutsch nicht fließend.
I am confused.
Ich bin verwirrt.
I don't know how to say it in German.
Ich weiß nicht, wie man das auf Deutsch sagt.
Sorry (or 'pardon'), what did you say?
Entschuldigung, was haben Sie gesagt?
I've never heard of that.
Davon habe ich noch nie gehört.
That makes sense.
Das ergibt Sinn.
That does not make sense.
Das ergibt keinen Sinn.
What's happening? / What's going on?
Was passiert hier? / Was ist los?
What do you mean by '___' ?
Was meinen Sie mit '___'?