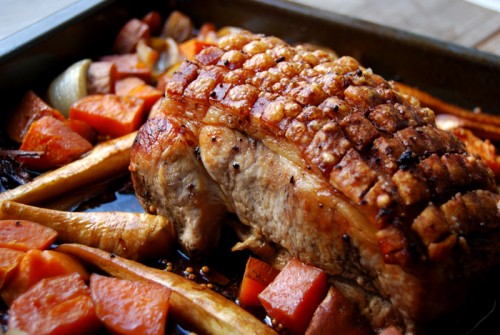 This is the ultimate roast – Bavarian beer roasted pork, also known as Bayerischer Schweinebraten or Krustenbraten – tender, juicy meat and crunchy crackling on top, perfectly roasted and crispy. This is hearty, honest autumn food, for those cold nights after a long walk out in the countryside.
Ingredients:
1500 g / 3.5 pounds of pork, shoulder piece, boned, scored,
(if you use a piece of pork with the bone leave it in the oven for 1 – 1  1/2 hours after you poured over the beer)
10 cloves, ground in a mortar
2 heaped teaspoons of salt
500 ml / 1 pint beer
3 medium sized onions, quartered
2 sweet potatoes, scrubbed, cut into cubes
3 parsnips, scrubbed, cut into cubes
1 cinnamon stick, broken into 3 pieces
star anise, 3 single pieces
2 heaped tablespoons of mustard seeds
For the gravy
175ml / 0.5 pints of broth
1 tablespoon of elderflower (or any other fruity) jelly plus more to taste
1/2 teaspoon of Dijon mustard plus more to taste
pepper
Preparations:
Set the oven to 175°C / 350°F.
Mix the cloves with 2 heaped teaspoons of salt and rub into the scored rind, depending on the meat's surface you might need more salt. Put the meat on a deep tray skin side up and cook for 1 1/2 hours.
Take the tray out, pour the beer over the meat and arrange the spices and vegetables on the sides (don't add the jelly and Dijon mustard yet). Cook for another 30-45 minutes until the crackling is crisp. Take out the vegetables and meat and mix the gravy on the tray with the broth, jelly and mustard and season with salt and pepper to taste. Take out the cinnamon stick and star anise and pour into a gravy boat (you can cook it down in a sauce pan for a few minutes if you prefer a more concentrated taste). Serve with the meat and vegetables.
If the rind isn't crisp enough yet, turn on the grill for a few minutes after you've removed the vegetables, gravy and spices and cook the meat until the crackling is light and crispy.