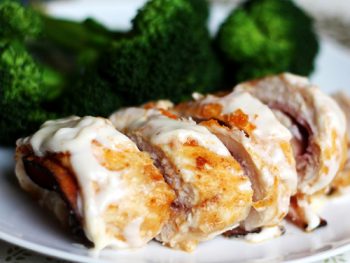 Ingredients:
4 boneless skinless chicken breasts, butterflied
1/4 tsp paprika
1/2 tsp granulated garlic
1/4 tsp each sea salt and freshly ground whole black peppercorns
4 slices German Limburger cheese, rind removed
8 slices German Black Forest ham
1 cup flour
4 eggs, beaten
1 cup bread crumbs
fresh flat-leaf parsley (optional)
Directions:
Preheat oven to 375 degrees F (190 C).
Season each butterflied chicken breast with paprika, garlic, salt, and pepper on all sides. Lay each piece flat on a cutting board; place 2 slices of ham and 1 slice of cheese inside each. Fold over to seal the chicken breast. Insert a wooden toothpick at each end to seal.
Dredge chicken breasts in flour, egg, and then bread crumbs. Place on a baking sheet lined with parchment paper. Dot with olive oil and bake for about 10 minutes. Garnish with chopped parsley, if desired.