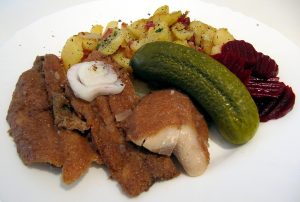 Pronounced /ˈbrɑːtˌheɪrɪŋ/, Brathering is a popular dish from northern Germany made of fried fresh herrings that marinate for several days before serving. Serve for lunch with fried potatoes.
Ingredients:
4 fresh herrings ready to be cooked
salt and pepper
1 tablespoon sugar
flour
butter or oil for frying
1 cup red wine vinegar
1 cup vegetable broth
2 bay leaves
3 cloves
10 black peppercorns
1 tablespoon mustard seeds
8 ounce jar mixed pickles drained
8 ounce jar cocktail onions
4 hot chilies
Preparation:
Salt and pepper the herrings and coat them with flour.

Heat the butter/oil in a frying pan and fry the herrings till golden brown. Let them drain on paper towels.

Combine vinegar, vegetable broth, spices and sugar in a pot and boil. Let it cool off. Put the herrings in a bowl, add the well-drained and sliced mixed pickles, cocktail onions and chilies and cover with the broth.

Store covered in a refrigerator for several days. Serve with fried potatoes.