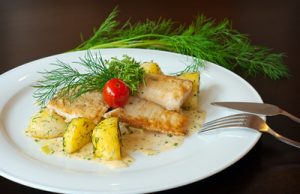 Eel in dill sauce is a common dish from the Mecklenburg-Vorpommern region of Germany.
Ingredients:
1 kg fresh eel
1 carrot
1 parsley root
1 onion
1/2 cup white wine vinegar
2 tablespoons butter
2 tablespoons flour
lemon juice
pepper
sugar
3 tablespoons dill, chopped
2 tablespoons parsley, chopped
Preparation:
Thoroughly wash the eel in warm water. Cut into pieces and rub with salt.
Wash and slice the carrot and parsley root. Peel the onion and quarter them. Bring 4 ¼ cups of water, vinegar, and salt to a boil. Cook for about 20 minutes. Remove from heat and add eel pieces, allowing them to marinate for about 20 minutes.
Melt butter in a bowl. Mix in the flour. Add 2 cups of the eel water, lemon juice, pepper, and sugar to taste.
Add the chopped dill, parsley, and eel pieces. Allow eel to marinate for another 5 minutes. Serve with boiled potatoes.