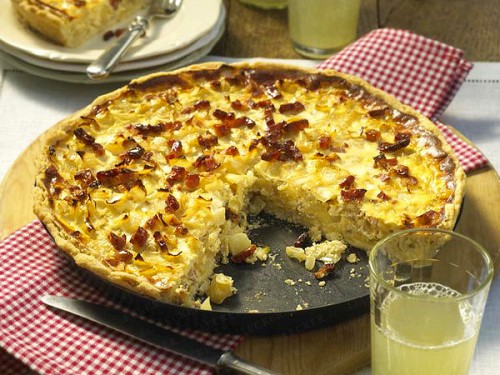 Zwiebelkuchen (onion cake, onion pie or onion tart) is a typical early fall specialty. It is made of sauteed onions with cream, egg and bacon on a rich yeast dough crust. It is usually served with Neuer Wein ("new wine").
Ingredients:
Dough:
3 cups flour (400 g)
1 1/2 tsp. instant yeast
1 tsp. salt
1 1/2 cups lukewarm water
Filling:
4-5 yellow onions
3 tbsp oil
3/4 cups cream, part crème frâiche if you have it
1/2 tsp. salt
1 egg
1 egg yolk
freshly ground nutmeg and/or pepper
1/2 – 1 tsp. caraway seed (optional)
1 tbsp cooked and crumbled bacon (optional)
Preparation:
Make the dough: mix instant yeast and salt into the flour and then add the warm water and mix until a smooth dough forms.
After the dough is smooth and elastic, form it into a ball, oil the surface and let it rise in a bowl covered with a clean dishcloth in a warm place until doubled, about 1 hour.
While dough is rising, make the onion filling. Slice the onions. Heat at least half the oil in a large pan, add the onions and sauté over medium heat, adding oil as necessary to coat all onions. Cook for about 20 minutes and remove from heat before they start to brown significantly.
Mix the creams, salt and eggs to form a custard base. You can add freshly ground nutmeg or pepper to the mix.
Press the dough into a 11 inch, buttered springform pan or into a buttered 28 cm x 33 cm baking dish, being sure to form high sides.
Distribute the onions over the dough. Sprinkle with caraway and cooked bacon. Pour the custard over the top and tilt to distribute evenly.
Bake in a heated, 175°C oven for 40 minutes or until custard is set and yeast dough is browned. Remove from oven and serve warm.