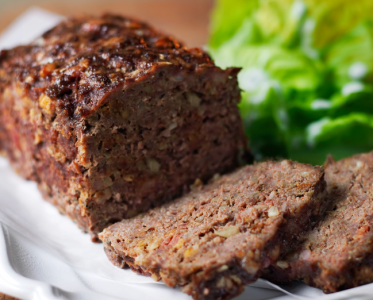 Hackbraten is a great dish for dinner parties – it's a nice-looking meat dish yet comparably cheap because it's made with minced meat. What's more, you can prepare it in advance, store it in the fridge and let it bake in the oven while you entertain your guests. Serve with mashed potatoes or Spätzle.
Ingredients:
500 g ground beef (or 1/2 beef, 1/2 pork)
1/2 cup breadcrumbs
1 tbsp butter
2 medium white onions
1 tbsp minced fresh parsley
2 large eggs
1 tsp. salt
1/2 tsp. black pepper
1 tsp. rosemary
1/2 tsp. nutmeg
3 tbsp flour
4 tbsp butter
1 large carrot
1 cup of water or beef broth
2 tbsp sour cream
1 tbsp flour or corn starch (for thickening)
Preparation:
In a large bowl, mix ground meat and breadcrumb. Preheat the oven to 180 C.
Peel and dice 1 onion. Heat 1 tablespoon of butter in a hot skillet and add the diced onion and parsley to it. Saute until onion is golden brown.
Beat eggs in a large shallow container. Add salt, pepper, rosemary, and nutmeg to eggs. Mix well.
Pour onion/parsley mixture and egg mixture over the ground meat. Knead together until uniformly mixed.
Mold meat mixture into a loaf. Roll loaf in flour until coated on all sides. Set the loaf in a small casserole dish.
Peel and slice the carrots and second onion. Pour water or broth into casserole dish and scatter the sliced carrot and onion around the meatloaf.
Heat 4 tablespoons of butter in a warm skillet and then pour over the meatloaf. Place dish in the preheated oven.
Bake for 1 hour (or until cooked through), basting often. With 5-10 minutes cook time remaining, spread sour cream over meatloaf.
Remove dish from the oven. Stir flour or cornstarch into the juice remaining in the pan to make a sauce.
Slice the loaf and serve with the sauce.