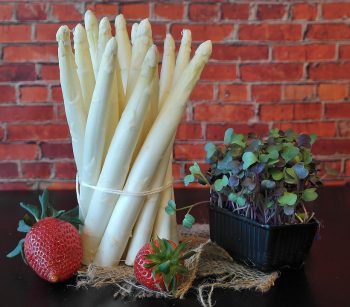 Spargelzeit (asparagus season) starts in Germany in April and lasts for two months every year. At this time of the year small wooden huts start popping up across Germany. The message they all bear is simple. It's just one word. "Spargel."
German passion for asparagus is unrivaled. One fifth of the entire arable landmass of the country is dedicated to its cultivation. 55,000 tonnes are produced each year in the short spring season, with a gross value of €175 million.
What is it about asparagus that makes it such hot commodity? There are several reasons for that:
Because it's the first fresh vegetable of spring, it gives people a mental boost when they see it on the shelves.
What's more, it is healthy and low in calories.
Then there is the tradition. "The Gods ate asparagus; kings and queens ate it… and normal people too," jokes Manfred Schmidt, who runs the Asparagus Museum in Beelitz.
But there is one other reason for its success. "Many people say it is an aphrodisiac. There is a saying here that if a newly wed couple are to have a good wedding night, she should eat asparagus and he should eat celery," the Spargel historian notes.
Asparagus has been growing in the German countryside for millennia. Writing his "Natural History" in the 1st Century, Pliny the Elder noted the many pale stems which protrude through the Germanic soil, reports Die Welt. Up until the First World War, production grew steadily and in 1908 a co-operative was founded. During the First World War profits fell, although they recovered in the 1920s but the Second World War put an end to the golden years.
The policies of collectivized farming in the 1970s ensured that the farms simply didn't have the manpower to cultivate the white vegetable – it is highly labor-intensive since the roots must be cut by hand. Cheap labor from Poland has provided all the manpower the farms need, and production has surpassed pre-war levels.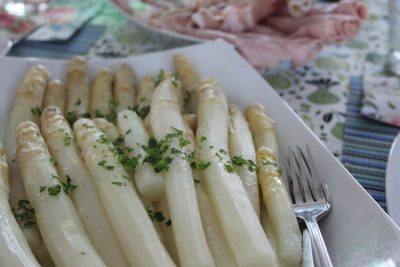 The only question left to answer is how one should best cook one's Spargel. Mostly it's all about keeping it basic.
All you'll need is some asparagus, olive oil and salt and pepper:
Heat the oven to 220°C. Snap off the woody ends of the asparagus and discard.
Spread the asparagus in a single layer on a baking sheet and drizzle lightly with olive oil. Toss the asparagus to evenly coat with oil.
Sprinkle generously with salt and pepper.
Roast for 15 to 20 minutes on the top rack of the oven. The roasting time will depend on your taste. You can roast until the asparagus are just barely cooked through or quite well roasted and getting a little crispy on the ends. It's up to you!