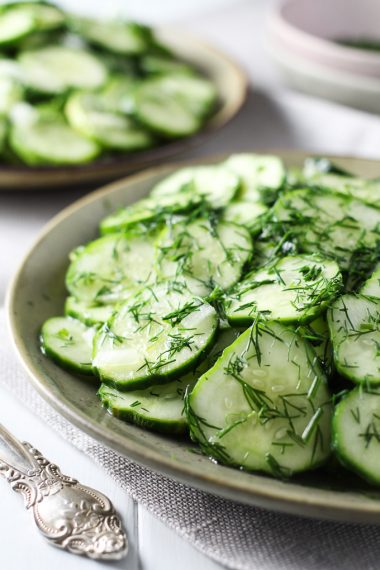 The traditional German cucumber salad is made with a lot of dill and you can also add parsley, tomatoes, and garlic. There are two types of dressing that are usually used for this salad. You can make it with a sour cream or yogurt based dressing or with an oil and vinegar based dressing. The secret to making a delicious German cucumber salad is to slice the cucumbers really thin.
Ingredients:
1 kg small field cucumbers, thinly sliced
1/2 large onion, thinly sliced
1/2 cup chopped fresh dill, loosely packed
For Vinegar and Oil Dressing:
4 Tbsp white vinegar
3 Tbsp olive oil
1 tsp sugar
salt to taste
For Creamy Dressing:
1/2 cup sour cream or plain yogurt
1/2 Tbsp olive oil
1/2 Tbsp Dijon mustard
1 Tbsp white wine vinegar
1/2 tsp sugar
2 garlic cloves, chopped (optional)
Preparation:
Place the cucumbers, onion, and dill into a large bowl.
For Cucumber Salad with Vinegar and Oil:
Add the white vinegar, olive oil, and sugar. Mix well to combine. Season with salt.
Refrigerate for at least 1 hour before serving.
Keeps well in the fridge for up to 24 hours.
For Cucumber Salad with Creamy Dressing:
In a small bowl, add the sour cream, olive oil, mustard, white wine vinegar, sugar, and garlic (if using). Mix to combine.
Add the dressing to the cucumbers and mix well. Season with salt.
Refrigerate for 30 minutes before serving. Better to consume the same day.




Photo via www.mariaushakova.com