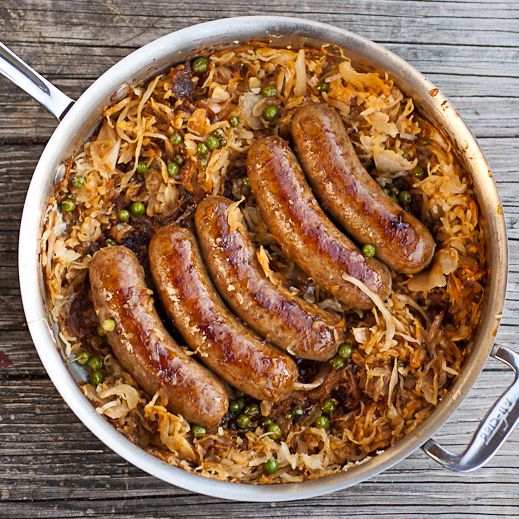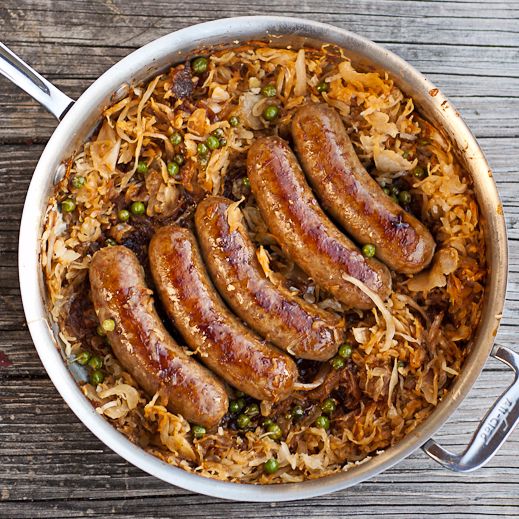 Ingredients:

1 onion, sliced
1 bottle of bock style beer
450 g fresh bratwurst
2 cups beef broth
2 tbsp butter
3 cups sauerkraut, drained
1/4 cup frozen sweet peas (optional)
salt and pepper
Method:

Heat a deep skillet over medium high heat.
Add the onions, beer, and bratwurst. Simmer, turning sausages occasionally, until beer is reduced to a syrupy constancy and onions are caramelized-about 10 minutes.
Remove sausages and add beef broth to the pan, scraping the bottom until mixture is fully incorporated.
Add sausages back to the pan and simmer until fully cooked, about 10 minutes more.
Remove sausages and bring broth to a full boil until reduced to syrupy constancy, watch that it doesn't reduce too much and burn off.
Lower heat to medium low and melt the butter, scraping up the caramelized bits in the pan.
Add sausages back to the pan.  Place sauerkraut around sausages and cook until heated and somewhat crisp.  Turn sausages and stir often to mix sauerkraut with caramelized onions so it doesn't burn.
Add the frozen peas, if using, and stir them into the sauerkraut to heat them.
Season with salt and pepper to taste-depending on the flavors of your sauerkraut and sausages you may not need extra seasoning.