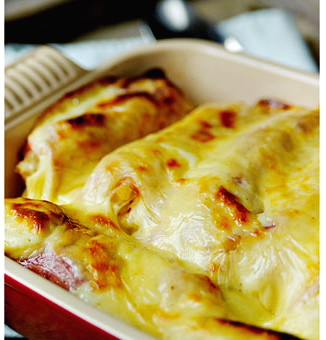 Ingredients:
700 g potatoes
400 g sauerkraut
8 ham slices
2 cups grated cheese
1 1/2 cup milk
4 tbsp flour
2 tbsp butter
nutmeg, pepper, salt
Directions:
1. Peel, wash and cut potatoes in 4. Boil in salted water until tender.
2. Drain the sauerkraut.
3. Melt a tiny bit of butter on a hot frying pan and add sauerkraut. Season with black pepper and simmer for 5 minutes.
4. Top the ham slices with sauerkraut and roll them up.
5. Drain the boiled potatoes, steam-dry them and transfer to an oven dish.
6. Grate the cheese.
7. Heat the butter, add flour and cook for 2 minutes. Add milk and bring it to a boil. Simmer for 2 minutes. Add the grated cheese and season with salt, pepper and nutmeg. Divide half the sauce over the potatoes, top with ham rolls and pour the other half of the sauce on top of the rolls.
Bake at 400 F (200 C) for 15-20 minutes until golden brown.