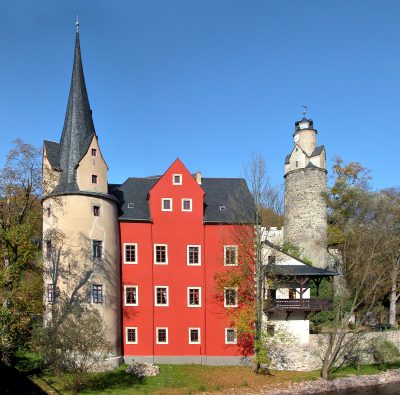 Stein Castle, or Burg Stein is a Saxon castle located southeast of Zwickau in the village of Stein in the municipality of Hartenstein on the banks of the Zwickauer Mulde.
The settlement of the Ore Mountains (Erzgebirge) began in the 12th/13th centuries, especially along the rivers. River crossings and religious orders (Niederlassungen) were protected by fortified sites. Along the Zwickauer Mulde river, numerous castles were built.
Construction of the castle was probably started around 1200 on a rock made of hornblende right on the southern banks of the Mulde. This oldest part of the site form the upper ward (Oberburg) today, consisting of a round bergfried (a tall tower typically found in castles ), a palas, with its great hall, and defensive walls. Its architecture still has Romanesque influences. The fortifications probably also served as an outer ward of Hartenstein Castle which had not at that time been converted into a stately residence or Schloss.
The remaining elements of the building are younger. The pointed round tower in the southwest may have been erected in the 14th century; the other parts of the lower ward (Niederburg) at the end of the 15th century. The bergfried of the upper ward were enhanced in the 16th century by an additional storey (Aufbau).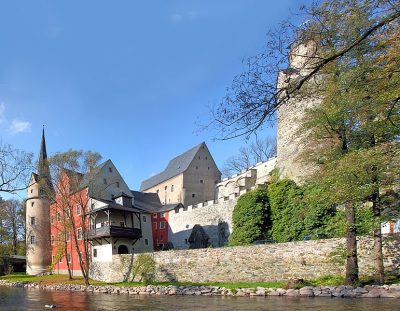 There used to be a ford by the castle and, later, a ferry as well as various wooden and stone bridges, some of which, in old drawings, are portrayed as covered. A bridge toll was still charged until 1924. A more modern steel arch bridge was blown up in 1945 by the SS; since 1950 there has been a concrete bridge on the site. The predecessor of the old Stein Castle is located on the steep northern banks of the Zwickauer Mulde above the station.
The castle was owned by the aristocratic family of the Princes of Schönburg until their estate was confiscated in 1945 as part of the socialist land reform in East Germany. Since 1954 it has housed a castle and local history museum. In the newer part of the lower ward a convalescent home was established.
In 1996, following German reunification the castle and surrounding Poppen Forest were reprivatized and the castle was renovated after prince Alfred of Schönburg-Hartenstein (b. 1953) bought it back. It is, however, still partly accessible to the public and still houses a museum.