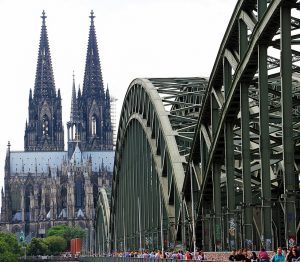 If you are planning a trip to Germany but have no idea what to pack, here is everything you need to know about what to pack for your trip and the essential items you absolutely must take with you, plus a few packing tips and tricks, for good measure.
Germany has so much to offer visitors. Whether it's the World War II history throughout the country or the Bavarian charm of Munich or the chic vibe of urban Berlin, there's something for every type of traveler.
What to pack for summer and spring
Like all good European countries, Germany comes alive in the warmer months. We're talking long days filled with gorgeous sunshine and blue skies, getting lost exploring winding streets and eating all the gelato you can handle. It's a magical place! Here's some things you'll need to pack:
Pack lots of light, breathable clothing options. The people of Germany are very stylish and cool, so don't be afraid to pack some nice outfits
I'd recommend packing flowing cotton skirts, denim shorts and skirts and cotton dresses
Consider packing vest/singlet tops as well as t-shirts and blouses too, if you like
Make sure you pack comfortable footwear as you'll spend a lot of time walking; you'll need a pair of sneakers as well as comfortable flats and sandals
I recommend you bring a hat or two as well as sunglasses and sunscreen
Be sure to pack your swimwear so you can make the most of the hotel pool if you have one
You may want to pack a few 'nice' outfits for special dinners or nights out, though I'd avoid high-heels
What to pack for winter and autumn
If you're visiting in the colder seasons, winter and autumn, you're going to need to pack very warm clothes. I've been in Munich and Berlin in winter and, honestly, the cold is no joke! The last thing you want is to be too cold to explore the Christmas markets. Here are some things you'll need to pack to survive:
Warm headwear, like a good-quality wool beanie, as well as warm gloves and scarves
You'll need at least two very warm coats, I'd recommend at least one of these be a waterproof, insulated jacket the other could be a nice pea coat or similar
Lots of warm clothes you can layer, like wool sweaters, long-sleeve shirts and so on
Consider packing thermal long-johns if you tend to feel the cold (me) and use these as a base layer for extra warmth
You'll need to pack a few pairs of jeans, make sure they're the nice thick kind and not just 'jeggings'
Remember to pack a few pairs of very warm socks and comfortable, closed-in shoes that you can spend all day walking in
You should also remember to pack a pair of boots if you have them, and some tights too if you want to layer them with skirts
Don't forget to pack your swimwear, because there can quite often be nice warm saunas and heated swimming pools around the place
As a member of the Eurozone, the price of traveling in Germany can depend on your home currency. The economy in the country is one of the most stable in Europe, so you probably won't have to worry about economic crises during your visit.
It's possible to fly within Germany, namely from Munich to Berlin, but is totally unnecessary. Not only would you miss all the gorgeous scenery in between but you'd also be wasting money. Trains are how everyone, especially the Germans, get around as it's efficient and easy. You can use a rail pass during my 2012 trip around the country.
Essentials for all-year round
Charging station
If you travel with a whole lot of gear that needs to be charged on the regular, you're going to need more than one power point. Buy one power-point converter and take a power board with multiple plug-ins on it. It makes life so much easier! Here's a look at the type of power plug & outlet type they have in Germany.
Medicines
Bring a small bag packed full of essential medicines with you, bring things like cold and flu tablets, hay fever/allergy medicine, ibuprofen, paracetamol, tums and Imodium. People who suffer from hay fever, asthma or other allergies may find the pollution causes them to play up, so keep that in mind. You should also definitely pack your prescription medicines and anything special you may require, like a Ventolin inhaler for asthmatics.
SunSmart gear 
You'll definitely need sunglasses, a hat and sunscreen with high SPF to protect you from the sun's harsh rays and I always recommend Cancer Council's sunscreen. Remember, sunscreen is only as good as its user and it's up to you to reapply during the day to ensure you don't get burned. Remember, cloudy days mean UV rays!
While a number of German words are cognates, it's not the easiest language to pick up for travelers. Learn the prefixes and a few key words. For example, "bahnhof" means train station, with "bahn" being train and "hof" being station. It's also a good idea to learn the words for types of foods in case you're picky or have sensitivities.
A number of museums offer free admission on certain days of the month, so plan your visit around them when possible. I also went on a few free walking tours in Hamburg, Berlin and Munich, Germany with Sandeman's New Europe. Tips are welcome, though, so be sure to save a few euros if you enjoy your tour.