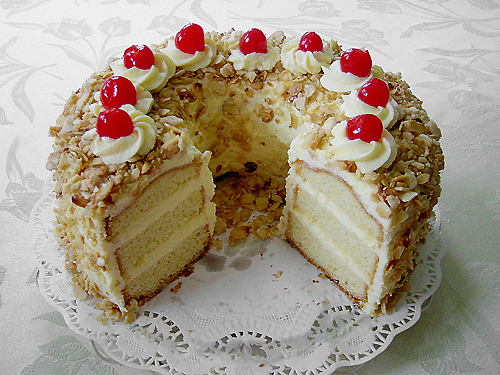 Ingredients:
*-*-*-*-*-*-*-*-*-*-*-*-*-*-*-*-*-*-*-*-*-*
8 ounces butter
10 ounces sugar
6 eggs
1 pinch salt
grated rind from one lemon
2 tablespoons rum
12 ounces flour
1 tablespoon baking powder
4 ounces cornstarch
1 package vanilla pudding
10 ounces butter
4 ounces confectioners' sugar
2 tablespoons rum
4 ounces Krokant (nut brittle) or other crunchy decorations
Cooking:
*-*-*-*-*-*-*-*-*-*-*-*-*-*-*-*-*-*-*-*-*-*
For the cake:
Beat the butter until creamy and add the sugar, eggs, salt, lemon peel and rum bit by bit. Fold the flour, baking powder and cornstarch into the mixture and mix well. Put the batter into a greased wreath-shaped form and cook at 350 degrees F for 60 minutes. Allow to cool on a rack.
For the filling:
Prepare one package of vanilla pudding using a little less liquid than stated on the package. Beat together the butter and the confectioner's sugar, add the cooled vanilla pudding and the rum, spoonful by spoonful, and beat until blended.
Cut the cake in half lengthwise (horizontally) and fill with half the butter cream. Use the rest of the butter cream to decorate the top and sides of the cake.
Sprinkle the cake all over with Krokant (use nut brittle or any other crunchy ice cream topping as a substitute) and decorate with cream rosettes and cherries.