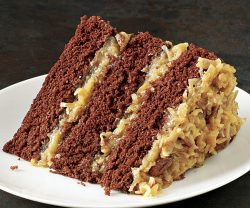 German chocolate cake, originally German's chocolate cake, is a layered chocolate cake from the United States, filled and topped with a coconut-pecan frosting. It owes its name to an English-American chocolate maker named Samuel German, who developed a formulation of dark baking chocolate that came to be used in the cake recipe.
Ingredients:
*-*-*-*-*-*-*-*-*-*-*-*-*-*-*-*-*-*-*-*-*-*
1 cup margarine
1/2 cup salad oil
1 cup water
2 cups sugar
2 cups flour
1/3 cup cocoa
1 tsp salt
2 eggs
1 1/2 tsp soda
1/2 cup buttermilk
vanilla

Cooking:
*-*-*-*-*-*-*-*-*-*-*-*-*-*-*-*-*-*-*-*-*-*
Sift dry ingredients. Bring margarine, oil, and water to a boil. Pour over dry ingredients. Add beaten eggs. Dissolve baking soda in buttermilk and add last. Bake in a greased pan for 30 minutes at 200 degrees C.
Frosting:
1 1/2 cup butter
1 1/2 cup sugar
1 cup coconut
1 can evaporated milk
3 beaten egg yolks
1 cup chopped nuts
1 teaspoon vanilla
Cook butter, sugar, coconut, milk and egg yolks until thick. Stir constantly as frosting burns easily. Remove from heat and add nuts and vanilla. Cool, then frost the cake.
Related Recipes:
German Chocolate Cake-1
Most difficult to cook, but the result is amazing.
German Chocolate Cake-3
A very good recipe, could be my favorite had I not tried the Traditional Recipe of GCC version.