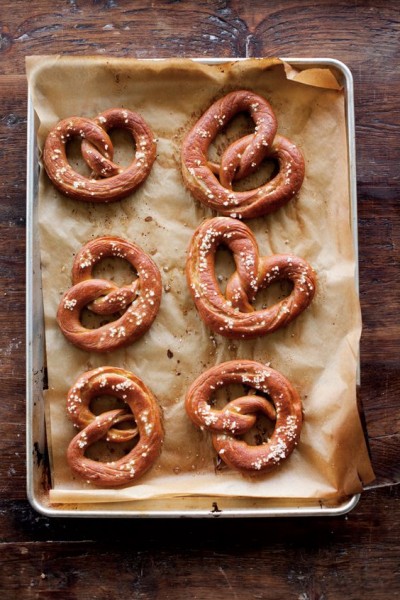 Those big, warm, soft pretzels you can get at the big game or a fair… only at home! Be sure you eat them the same day you make them though, preferably while they're still warm. But that shouldn't be a problem. Bring out the beer and mustard!
Ingredients:
1 cup (8 fl. oz./250 ml.) warm water (110 degrees F/43 degrees C)
1 package (2 1/4 tsp.) active dry yeast
1 tbsp. sugar
3 tbsp. olive oil, plus more if needed
3 1/4 cups (16 1/2 oz./515 g.) all-purpose flour
1 tsp. salt
1/3 cup (2 1/2 oz./75 g.) baking soda
coarse salt for sprinkling
grainy mustard for serving
Directions:
In the bowl of a stand mixer, stir together the warm water, yeast and sugar. Let stand until foamy, about 10 minutes. Add the 3 tablespoons oil, the flour, and kosher salt. Attach the dough hook and knead the dough on medium-low speed until smooth, about 10 minutes. Form the dough into a ball, cover the bowl with plastic wrap, and let rise in a warm, draft-free spot until doubled, about 1 hour.
Line 2 baking sheets with parchment paper and brush the parchment with oil. Dump the dough onto a lightly floured work surface, then cut it into 12 equal pieces. Roll each piece into a long rope about 18 inches (45 cm.) long. With each rope positioned horizontally, bring the 2 ends up and toward the center as if forming an oval, cross one end over the other, and press each end into the bottom of the oval to create a pretzel shape. Place the pretzels on the prepared pan, spacing them evenly.
Position a rack in the middle of the oven and preheat to 450 degrees F (230 degrees C). Fill a large, wide saucepan with 7 cups (56 fl. oz./1.75 l.) water, stir in the baking soda, and bring to a boil. Gently drop 2 or 3 pretzels at a time into the boiling water (be careful not to overcrowd them). Boil for just under 1 minute, turning once with a large slotted spoon or spatula. Return the boiled pretzels to the baking sheet, top side up.
Sprinkle the pretzels with coarse salt. Bake until beautifully browned, about 10 minutes, rotating the pans about halfway through. Serve warm with big spoonfuls of grainy mustard. Makes 12 pretzels.